England
'We need another Gascoigne' - Southgate bemoans lack of creative force for England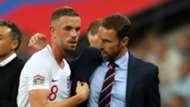 England manager Gareth Southgate says he is desperate to unearth a creative talent who can dominate the ball against the top teams on the planet, insisting that such a player has not played for the country since Paul Gascoigne.
Gascoigne was a member of the England squad that reached the semi-finals of the 1990 World Cup and was widely heralded as one of the best midfield players on the planet at his peak.
Mazy dribbles and defence-splitting passes became a trademark of the former Tottenham and Lazio star, who won his final Three Lions cap in 1998.
And after seeing England beaten by a Spain team boasting the likes of Thiago Alcantara, Saul Niguez and Isco at the weekend, Southgate has bemoaned the lack of similar players at senior level available to him.
"The only one in my lifetime is Paul Gascoigne and I'm not sure he was developed, I think he was a consequence of a unique talent," Southgate told reporters.
"I think what is happening at junior level is that there is more emphasis on technical ability, there is more, right from five, six, seven-year-olds, there is more emphasis on being able to handle the ball and play.
"We're seeing that with some of our junior teams. But we can see there's a period of time for those players to come through.
"We can see there's a few players around our squad that have the ability to do that, but Spain have had a production line for a long period of time.
"Look at those who have gone and those that come into the team. Of that type of player, they've produced more than any other team in the world."
England have lost their last three games, tasting defeat in the World Cup semi-final against Croatia, in the third-place play-off against Belgium and then in the UEFA Nations League clash with La Roja.
They will aim to return to winning ways in a midweek friendly against Switzerland.