UEFA Europa League
WATCH: An icon and a role model - Totti at 40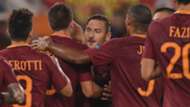 Freddie Ljungberg and Henrik Larsson both played at the elite level well into their 30s and are best known for their time at Arsenal and Celtic, respectively.
 
But neither man was still scoring goals at 40 like Francesco Totti at Roma, and nor did they manage to remain one-club men.
 
"To be able to still wake up in the morning and still go to practice and then play the games at the weekend [at that age], it's fantastic," Larsson said of Totti.
 
"To stay at one club for so long, I think is great," Ljungberg added. "Because I don't think we [footballers] are that loyal anymore. So for me, he is a role model."
 
Totti's longevity and loyalty in the Italian capital has been so incredible that former Sweden internationals Ljungberg and Larsson discussed whether the Emperor of Rome is human.
UEFA is inviting fans to win the chance to play on the Friends Arena pitch, the day after the Stockholm stadium hosts the UEFA Europa League final on 24 May.
Coached by Henrik Larsson and Freddie Ljungberg, two teams will contest the Stockholm Showdown the day after the winner of the 2016/17 Europa League is determined. The competition prize also includes a full personalised adidas team kit, adidas football boots of their choice, complimentary flights, hotel and match tickets. - Click here to enter