David Villa
David Villa reaches 50 MLS goals with shining performance in the rain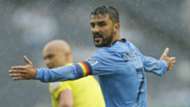 David Villa's first goal may have been a gift, but his second was pure magic, providing the ideal cap to a milestone day for the Spanish star.
Villa surpassed the 50-goal mark in MLS on Saturday, converting a questionably-awarded penalty kick before delivering a back-post volley winner in the 75th minute of NYCFC's 2-1 victory over the Seattle Sounders.
It was another trademark performance from Villa, who has become Major League Soccer's poster boy for designated players. Just three days removed from starting in NYCFC's U.S. Open Cup loss to the New York Red Bulls, Villa took the field at a waterlogged Yankee Stadium and once again delivered late-game heroics.
He had some help from referee Robert Sibiga. In the 52nd minute Sibiga whistled O'Neil Fisher for a foul on Villa in the penalty area. Replays showed a clean challenge, but the Spanish star converted the penalty for his 50th regular season goal.
Villa's 51st was one more fitting of a milestone, as he raced in unmarked on the back post to volley home a perfect Jack Harrison cross for the eventual winning goal.
"(Those) goals have given a lot of points and good moments for NYCFC, which is the most important for me," said Villa, who nows has 10 goals in 2017. "Now I'll rest and (try to) score (number) 52."
It was the kind of day NYCFC fans have grown accustomed to from Villa, who has tallied 51 goals and 18 assists in 77 matches since making the move to MLS in 2015. His productivity has been matched by his durability, which has allowed him to be a consistent contributor at the age of 35, with no signs of slowing down. It also made signing Villa to a contract extension through the 2018 season a no-brainer, not least of which because it will keep NYCFC from having to deal with speculation about Villa's future after this season.
By all accounts, Villa is loving life in New York, and seeing him fight and scratch and claw through 90 minutes on Saturday once again showed us a player who remains supremely motivated, even though it would be easy for a somebody with his resume to rest on his laurels.
That doesn't mean NYCFC coach Patrick Vieira isn't looking for ways to ease Villa's workload. The acquisition of USL standout Sean Okoli this winter has given NYCFC another target forward option to deploy, thus allowing Villa to play a more free role on the wing late in matches. This played out late in Saturday's match, when Villa's goal came just a minute after Okoli came on as a substitute, which led to Seattle losing track of the former Barca star as he slipped in from the left wing unmarked to score the winner.
NYCFC has done a good job of bolstering the supporting cast around Villa in 2017, with Rodney Wallace stepping in as an ideal left-wing option opposite Harrison, and Maxi Moralez providing more creativity in central midfield. The result is an attack that has scored the most goals in MLS to date, and while NYCFC held that same distinction a year ago, there is more balance to the attack in 2017.
Villa's team is going to need that balance this summer, with a brutal schedule looming in the coming months. A trio of matches against the Red Bulls and two against Toronto FC are mixed in with clashes against Chicago, Vancouver and the LA Galaxy. A visit from Minnesota United on June 29 is probably the easiest test NYCFC will face for two months.
That stretch will go a long way toward showing us just how seriously we can take NYCFC as an MLS Cup contender. Based on what we have already seen, NYCFC is a better team this year, but so are Toronto FC and the Chicago Fire in the East, and Sporting Kansas City and FC Dallas in the West.
Villa and NYCFC aren't thinking about an MLS Cup run just yet. Not with a match against the Red Bulls looming next week in the latest installment of the New York Derby.
The Red Bulls got the better of NYCFC last year, winning two of three matches — including an unforgettable 7-0 beat down of NYCFC at Yankee Stadium. With 51 MLS goals under his belt after Saturday, Villa will be hoping to add to his next 50 with a goal or two at Red Bull Arena.