Superliga
VIDEO: River's Andrade stakes claim for miss of the season!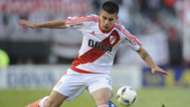 River Plate youngster Tomas Andrade was left red-faced Sunday when he squandered an absolutely golden chance to net against Belgrano.
WATCH: Centurion's crazy footwork
With River 2-1 up in the dying seconds, Belgrano were left exposed at the back when Gonzalo Martinez streaked away on the counter. 
The winger had three team-mates to choose from in the area, with only Pirata keeper Lucas Acosta left at the back. 
But Andrade was far too nonchalant with his finish, leaving Acosta with just enough time to scramble back and somehow retrieve the ball. 
The final whistle sounded just seconds later, sealing a home win for the Millonario — but Andrade will have a hard time forgetting what could well be the miss of the season!