A. Sánchez
VIDEO: Arsenal future uncertain, but Alexis Sanchez still packing a punch in boxing workout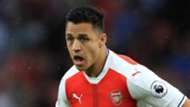 Alexis Sanchez is renowned for his work rate, and the Arsenal forward has been honing his boxing skills as a means of staying in shape.
The Chile international is readying himself for the Confederations Cup in Russia.
Wright: Give Arsenal Lewy for Alexis
He heads into that tournament on the back of a first 30-goal campaign at club level, with his exploits helping to keep Arsenal in top-four contention while securing FA Cup glory.
It remains to be seen whether he will be back at Emirates Stadium for 2017-18, but for now he is happy to display that his sporting ability is not limited to the football field.
Alexis has been heavily linked with a big-money transfer this summer as he enters the final 12 months of his contract at Arsenal.
The Gunners are understandably reluctant to part with a prized asset and have taken every opportunity to reiterate that keeping the 28-year-old is considered to be a top priority.
Arsenal tell PSG: Alexis going nowhere
Sanchez, though, has done little to curb the speculation, with the door being left ajar for suitors such as Manchester City and Paris Saint-Germain.
He told Cooperativa on his future: "The truth is that my agent will see to it. He knows and he will sit down with the club to look for the best option for me."