CAF Confederation Cup
Usman Abdallah insists Enyimba will learn from CARA defeat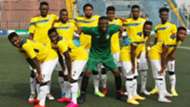 Enyimba's Usman Abdallah has described their defeat to CARA Brazzaville of Congo in the Caf Confederation Cup tie as shocking but noted that they have taken positive notes from the humiliation ahead of their forthcoming games.
Goals from Racine Lobamba, Cabwey Kivutuka and Dicha Liema ensured the People's Elephant lost their unbeaten start to the second tier African club competition but an unhappy Abdallah noted that they have learned their lessons and that there won't be a repeat of such performance again this season.
"It was a surprise for us to be down by three goals within the spate of six minutes but we have reviewed everything that happened and are optimistic that the mistakes noticed in the game won't happen again," Abdallah told Goal.
"We used the halftime to analyze what actually happened in the first half and we told them to seal up the defense and tried to prevent further goals from coming in and they did exactly that. It was a bad day for us at the office and we apologize to Nigerians for the woeful performance.
"We already told the players to expect a difficult match even before the start of it and they didn't underrate them but we were undone by the defensive lapses that left our goalkeeper badly exposed. We promise an improved performance against Niger Tornadoes on Wednesday and in subsequent games."
Enyimba dropped to third in Group C with three points from two games after Williamsville Athletic Club and CARA overtook them to claim first and second spots with four and three points respectively.
The twice African champions will host Williamsville in Calabar on July 18 when the competition resumes after the 2018 World cup break.