A-League
Usain Bolt's biggest hurdle ahead of trial match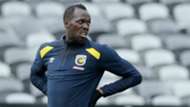 The world's fastest man is having to slow down and pace himself as he prepares for his first match for the Central Coast Mariners. 
In Usain Bolt's first full team training session, the sprint king again showed a lack of match fitness and struggled to keep up with a team he hopes to earn a contract with.
Ahead a friendly match on Friday night, which Bolt is expected to play a few minutes in, the eight-time Olympic gold medalist admitted his biggest hurdle right now is adapting to the demands of a football pitch. 
"For me, it's the stop and gos. The tic tacs," Bolt said.
"Because I'm not used to picking up speed, going up and down, back and forth. I think that's been the most challenging.
"It's all about practicing, going through the rounds, pushing myself and getting used to the system. I have time so I'm just going to take my time.
"It's part of the learning process. Nothing frustrates me, it's just the work."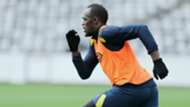 Despite winning gold medals on one of sport's biggest stages, Bolt conceded he will be nervous ahead of his first game with the Mariners. 
With a crowd of over 10,000 expected on the Central Coast, the Jamaican is keen to prove himself but admits mistakes are inevitable. 
"There will be nerves...it's not like it's a charity game anymore," he said.
"This is a career I'm pursuing so there will be nerves.
"I expect to make mistakes but I expect to make myself proud and to push myself. I know I'm not going to have a perfect game."