UAE du La Liga HPC teams take on youth champions Malaga CF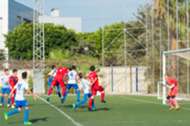 In the final day of matches during the 21-day scouting camp in Spain, the du LaLiga HPC players faced La Liga Youth League Champions Malaga CF in Spain.
The highly anticipated U16 match kicked-off with the du LaLiga HPC taking an early lead, scoring in three minutes, as Mazloumian crossed in a free-kick that connected beautifully with Abdulrahman's head, sending the ball to the right of the goalie.
Malaga equalised ten minutes later with a chip over the head of goalkeeper Rajai Ardakani and held off the HPC's attempts until the end of the first half when the whistle blew 1-1.
Going into the second half, both teams stepped-up the pace in a bid to take an early lead but it was du LaLiga HPC's Elkhamlichi who gave his side a 2-1 advantage, dribbling effortlessly past two defenders and tucking the ball neatly into the back of the net in the 49th minute.
Malaga responded in kind nine minutes later with a goal from a well-executed counter-attack.
With all to play for in the last 15 minutes of the match, Mehdi Elkhamlichi made a run from midfield and delivered the ball beautifully for Kareem Mohammed who powered the ball into the back of the net, seeing the U16s into a 3-2 hard-earned victory.
The U18s matched their Spanish counterparts with speed and tactical play in dead heat, ending the first half goalless. Malaga substituted all 11 players at half-time in a bid to gain an edge over the visitors.
Driss Matni almost scored for the UAE side as he feinted a right turn and got around the last Malaga defender, exposing the keeper in a one-on-one but didn't manage to convert. Soon after, in the 58th minute, Malaga headed in a cross taking them to a 1-0 lead at the final whistle.