Tusker
Tusker reveal late collapse in Caf competition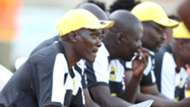 Tusker FC were on the verge of progressing to next round of Caf Champions League but two late goals ended their dream.
After playing to a one all draw last week at Kasarani Stadium, Nairobi, the brewers needed a win of any kind or a high scoring draw to progress. However, after getting an early lead, the brewers lost it late and ASPL 2000 of Mauritius progressed to the second round.
Gallery: Ranking top KPL coaches for 2017 season
Assistant coach Francis Barasa has revealed that lack of concentration denied them a win away. "We played well and even took a deserved lead. Yes we had numerous chances that we did not take and that came back to haunt us," Barasa told Goal.
"We lost concentration during vital moments and they capitalized on it. It is a lesson for us but a painful one."
Tusker will now turn their attention to defending the league title and GOtv Shield.