Trinidad and Tobago
Trinidad and Tobago fires head coach Stephen Hart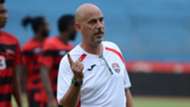 Jurgen Klinsmann isn't the only CONCACAF manager to get the ax after a disappointing start to his side's final round of World Cup qualification.
Klinsmann didn't fail U.S. Soccer
Trinidad and Tobago's federation announced Thursday that it has fired head coach Stephen Hart, after the Soca Warriors lost their first two games of the Hexagonal.
Let go by Canada following its exit in the penultimate round of 2014 World Cup qualification, Hart was hired by the Soca Warriors in 2013. Hart oversaw an uptick in performance by his side after a downturn period of results that saw the Soca Warriors miss out on the Gold Cup in 2011, and suffer an early exit from 2014 qualification.
Trinidad was a quarterfinalist in both the 2013 and 2015 Gold Cups, including winning its group in 2015 over heavily favored Mexico before being eliminated by Panama on penalties. The Soca Warriors were also runners-up in the Caribbean Cup in 2014, and qualified for the Hex for the first time since 2010 World Cup qualification.
However, the team's form dipped considerably after the 2015 Gold Cup. Hart's side missed out on the Copa America after a 1-0 neutral site defeat to Haiti in a playoff. While it did qualify for the Hex, a strong start in the semifinal round gave way to a narrow draw at home against Guatemala to ensure passage to the next round and a humiliating defeat to the United States to close out the stage.
An extra-time loss to Martinique in October eliminated Trinidad and Tobago from the Caribbean Cup prematurely and put its 2017 Gold Cup spot in jeopardy — the Soca Warriors will need to qualify in a fifth-place playoff.
Hart also suspended Kevin Molino, one of the side's best attackers, following the Martinique defeat after multiple violations of team rules.
The final straw came after a pair of defeats to open up the Hex — a 2-0 loss at home to Costa Rica followed by a 3-1 reverse against Honduras.
The Soca Warriors sit fifth of six teams in the Hex, ahead of the United States by virtue of a slightly better goal difference.
The Trinidad and Tobago federation has not hired a new coach at this time, though it promises to fill the position as quickly as possible.