KPL
Tough-talking Dan Mule assures Rodolfo Zapata of future at AFC Leopards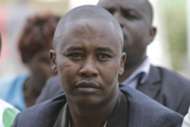 Rodolfo Zapata has once again been assured of his future at AFC Leopards with chairman Dan Mule insisting that they are not ready to bring in a new coach.
Ingwe have changed coaches four times in the last 17 months and Mule says that the trend must stop for stability purposes.
The tough-talking boss categorical stated that Zapata is here to see off his contract. After Stewart Hall, Robert Matano joined the growing list of Ingwe coaches before he was succeeded by his assistant Dennis Kitambi, whose place was taken by Zapata in May.
Tough-talking Dan Mule: Coach Rodolfo Zapata will not leave |AFC Leopards https://t.co/jpSREuQyeG @AFCLeopards pic.twitter.com/u9WAMIOkwu

— Goal.com Kenya (@GoalcomKenya) August 1, 2018
But the former Gaborone United coach has already suggested he might be looking elsewhere if a number of isses within National Executive Council (NEC) are not solved.
Mule has however, thrown his weight behind Zapata when he emphatically said that there will be no change in the bench.
"No! It is unthinkable right now to even start imagining bringing a new coach," Mule told Goal.
"We cannot keep on firing and hiring coaches. It takes us miles back. All we need is consistency, and you cannot get that if you keep on changing your technical bench.
"It will affect the players. What we will do is sit down by the end of the season and make our assessment."
AFC Leopards are currently joint third on the log and are in the quarter-finals of FKF Shield.