Hull City v Tottenham Hotspur
Tottenham and Kenyan star Victor Wanyama shortlisted for Award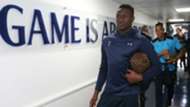 Harambee Stars captain and Tottenham Hotspurs' midfielder, Victor Wanyama, leads the pack of sports personalities, who have been nominated for this year's Olx Social Media Awards (SoMA 2017).
Wanyama, who joined the Mauricio Pochettino-managed side in last year's summer from Southampton on a five-year deal has been nominated to battle with 800 metres World record holder, David Rudisha and Kenya Sevens rugby player Biko Adema for the influential social media Awards. Other nominees in the Sports Personality category are 2016 Olympic marathon gold medallist Eliud Kipchoge and national volleyball team captain Jane Wacu.
Okumbi: Why I omitted Allan Wanga from Kenya squad
The annual Awards are used to recognize and reward individuals who have made good use of social media to positively impact society. Voting for the nominees, which began on Tuesday will take a month and end ahead of the Gala Dinner on June 23rd when winners will be announced.
Athletes have in the recent past capitalized on the digital revolution witnessed in the country to build their profiles and market themselves as brands. Last year, the Sports Personality category was won by the 800m Olympic gold medalist and world record holder, Rudisha.
The Olx SoMA founder and director commented: "We are seeing more and more celebrated sport stars focusing on social media as a platform that can help them connect not only with Kenyans but also international fans, which is a plus to them as huge social media accounts can help them make more monies through brand endorsements."
Wanyama motivates Kenyan rugby team of ahead of sevens
The list of nominees for this year's Awards cuts across the political, social and economic spheres, and features some of the best known corporate brands, media personalities and public figures in government, politics.