PJ Rangers
Tony Fernandes calls for revamp of FAM League structure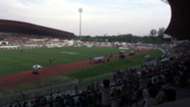 As the 2018 FAM League season comes into view very soon, Tan Sri Dr. Tony Fernandes is hoping that Football Association of Malaysia (FAM) can study and make efforts to improve the third-tier league in the future.
The competition now is divided into two groups where teams will play each other twice over the course of the season. The top two teams from each group progressed through to the knockout rounds where the eventual finalists will gain promotion to Premier League.
Being an owner of Queens Park Rangers (QPR) in the English Championship, Fernandes is hopeful that a similar system can be employed in Malaysian football, particularly for the FAM Leauge.
"It's really important that we have one league for the third division, not two leagues. I would love a championship promotion, two automatic and one playoff. Playoff should be four teams with the final one game to make it exciting. The final that I was involved with in England was a big event with a full Wembley Stadium and it was live on television." 
"We have to market it well. The third league is an important league because players can come from these leagues where young players can come in and develop. I hope that FAM would look into the league and put more importance into the league and make it simpler to understand," said Fernandes during a press conference held on Thursday morning.
In the press conference announcing the revamp of Petaling Jaya Municipal Council Stadium (MBPJ Stadium), Fernandes represented Air Asia Berhad in signing an Memorandum of Understanding with MBPJ that will see that stadium being renamed Air Asia - MBPJ Stadium.
Renovation works will be done over the course of five years with the teams and officials area, dressing room, field of play as well as other various works being done that is expected to come up to a cost of approximately RM4 million. The works are planned to be started before the end of the year 2017.
"It's a big step forward for corporate. This is the second stadium to be sponsored. Infrastructure is important. Good changing rooms, good medical facilities, otherwise the players will never be the best. We put the money sometimes in the wrong place. We're hoping that others will follow us and help the stadium regenerate, especially the playing surface," added Fernandes.
Despite earning the naming rights for the stadium, the stadium would remain open for other uses apart from hosting PJ Rangers matches but priority and extra care will be taken to ensure that the pitch condition does not get affected.