Liverpool
''Thunderstorm' Man City's derby defeat won't help Liverpool' - Klopp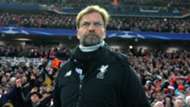 Liverpool manager Jurgen Klopp does not believe Manchester City's defeat to Manchester United will have any bearing on his side's chances of progression in the Champions League, hailing Pep Guardiola's team as capable of playing like a "thunderstorm".
Klopp takes his team to the Etihad Stadium on Tuesday looking to defend a 3-0 lead from the first leg of their Champions League quarter-final.
City's loss at Anfield was followed up by the failue to secure the Premier League title against rivals United, with Guardiola's team throwing away a 2-0 half-time lead to eventually go down 3-2.
Despite those recent results Guardiola's team still have an enviable defensive record, and Klopp does not believe their form at the back will have any bearing on their upcoming clash, instead focusing on his own keeping their hosts from mounting their own comeback.
"I saw the City vs United game at the weekend. It was one of the best first halves I have ever seen. It was like a thunderstorm," he told reporters. 
"Then, in the second half, the game changed. After the first goal, one team gains rhythm, another team loses rhythm.
"We can go through all the scenarios, whether they score early or we score early, but  there is no plan like this. I cannot tell the boys: "Boys! Score early!". Well, I can but I am not sure that it really helps!
"This is half-time. It was the same at half-time in Anfield - the game is not over. We were in the lead, nothing else. Being in the lead is not winning. We are still in the lead but we haven't yet won."
On United's goals against City he added: "Everyone can concede these types of goals. The first goal was brilliant play by United, to be honest. I really respect the quality. The next one is a fantastic cross with a good run. Then the third is a set-piece.
"They have still conceded the least goals, right? They don't have these problems a lot. It is bad that it happened in the game before our game because maybe they have time to address the problem."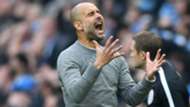 City's dominance of the Premier League this season had seen them emerge as one of the favourites to win the Champions League ahead of their defeat at Anfield.
Despite that Klopp does not feel that there is necessarily more pressure on Guardiola and his players to win on Tuesday and further succeed in continental competition.
"I have no idea who the pressure is on. I always see it as two legs of one game. We are in a 3-0 lead. That is better than I would have expected. If you would have told me 10 days ago that this was possible, I would have said "don't think so".
"I am not putting pressure on ourselves. We are so close. Our situation is not the easiest situation in world football. We are not flying with a full squad. But we stick together and we want to go as far as possible."
Klopp was handed a major boost on Monday as top scorer Mohamed Salah returned to training having limped off in the first leg with a groin injury.