Republic of Ireland
'The ref's bottled the decision' - Christie & Walters unhappy with officials as Ireland draw with Austria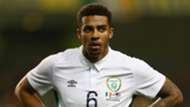 Both Cyrus Christie and Jonathan Walters admitted that referee David Fernandez Borbalan made the wrong decision in ruling out the Republic of Ireland's late goal against Austria.
Walters cancelled out Martin Hinteregger's opener in the 85th minute at the Aviva Stadium, but the Boys in Green had the ball in the net moments later only for the Spanish referee to rule it out, awarding a free-kick against Shane Duffy for climbing on Stefan Lainer.
Ireland's dream still alive after Austria draw
Replays show that Duffy had not fouled the defender, leaving Christie incensed with the decision, believing Ireland should have gotten all three points.
"I think we deserved all three in the end," Christie told reporters. "In the second-half we were quite dominant.
"The ref's made an awful decision at the end. It was definitely a goal. Jonny Walters should have had a penalty as well. That's the way it is sometimes, we managed to get a point.
"We were all a bit downhearted with that. We feel we should have won. We feel the ref's decision at the end, we think he kind of bottled that decision. That happens in football. Refs have a tough job to do, but that's when you want them to make the decisions right."
Stoke City's Walters also was disappointed with the decision
"We should have came out with the win. It should have been an allowed goal, and possibly a penalty as well," Walters said.
"They [the officials] have a hard enough job, but it was one of those games. A lot seemed to go against us. Especially the goal. The lad is what, five-foot-five, and you've got Duffy coming in, there's only winner. There's no foul. He's got a running jump and he's got a standing jump. There's only one winner.
"We wanted three points. We didn't get it, it wasn't to be."