Memphis Depay
'The best goal of my life' - Memphis explains Lyon stunner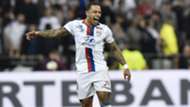 Memphis Depay says his incredible goal against Toulouse on Sunday was the best of his career and says he knew goalkeeper Alban Lafont would be off his line as he sent it sailing in from the halfway line.
Memphis on the way to redemption
Memphis netted twice in a 4-0 trouncing of the mid-table team, taking his tally to five goals and two assists in nine Ligue 1 games for Lyon since his move from Manchester United in January.
It was the final goal of the game that made headlines all across the world on Sunday night when the Netherlands international took the ball in the centre of the pitch and beat Lafont from a huge distance.
And the 23-year-old revealed it was not entirely an impulsive action as he had identified the keeper's weakness early in the game, though he feels he should have had a third goal.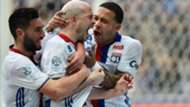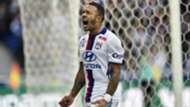 "It's great for me to score a goal like this," he told Le Figaro. "A few years ago, I tried the same thing when I played for PSV. I do not know who it was against. I was 10 meters away and I hit the bar. This time I was lucky. I think I scored the best goal of my life.
"Besides that, I'm very happy because the team got an important victory. We had to take the three points at home.
"From the first period, I realised that the goalkeeper was playing away from his line. I didn't touch the ball in the middle of the field but I kept it in a corner of my mind.
"At the time, we pressed high and the ball was recovered. I knew where the goalkeeper was. Without thinking, I tried my luck in turning. I didn't even see the ball go in but I saw the stadium in delirium.
"The other day I saw Alex Lacazette score a magnificent goal and I told him I had to do the same.
"As I told my colleagues, I should have scored a hat-trick."
Lyon have a Europa League last-16 second-leg to come against Roma on Thursday, having drawn 2-2 in France, before they take on Paris Saint-Germain in Ligue 1. Though Memphis is ineligible for European competition, he is excited about what is to come for his team and feels he is settling in well.
Blundering Navas playing for Real Madrid future
"These two matches are very important and if we show the same qualities that we did against Toulouse this Sunday, we can do beautiful things," he added.
"I think that I make progress every day in training. I'm getting to know the team and my team-mates better and better.
"I have more landmarks on the field, I'm starting to know where to give them the ball and where they can give me the ball... I have high hopes for the future."