Super League
T-Team beat Kedah by playing their own game, says Rahmad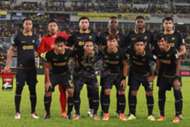 ---
BY        ZULHILMI ZAINAL       Follow on Twitter
---
After T-Team handed Kedah their first defeat of the season with a 5-0 trouncing in their Super League match in Kuala Terengganu, the Titans head coach Rahmad Darmawan credited the win to his decision to not play to the Red Eagles' usual possession football.
Dilshod Sharofetdinov opened the scoring in the 10th minute, but Rizal Ghazali's sending off near the end of the first half opened the floodgates for the homeside to add four more goals in the second.
In a post-match interview with match broadcaster TV3, the Indonesian trainer revealed that his decision to get his men to play a counter-attacking game had paid off, despite the fact that they did not create as many chances as they should have.
"Today we opted for a counter-attacking game, it was very effective.
"We did not create too many chances, but everytime we had a chance we were clinical with the finishing.
"We would not have succeeded had we played to Kedah's possession football.
"In addition, I was particularly pleased with my men's discipline, the way they waited for the opponents to come forward, press them before launching into counter-attacks.
"All our goals came through similar situations," revealed Rahmad.
He was also pleased at his men's increased confidence following Rizal's sending off, which caused the home side to be more confident in holding the ball.
"After Kedah were down to ten men, I told my men to play a more simple game, to keep more possession of the ball.
"As a result, we got to balance out the possession rate. And with the extra man, we were no longer under pressure from the opponents and could play better," explained Rahmad.
But despite the big win, the 50-year old coach refuses to think too far ahead on their league campaign, preferring simply to revel in their success of confirming their spot in the 2017 Malaysia Cup.
"I don't want to get ahead of myself, I just want to focus on our next match, against Selangor.
"My men cannot be too happy with the situation, we are not on the same level (compared to the other teams).
"For now I'm just happy that we have qualified for the Malaysia Cup," said Rahmad.