AIFF Super Cup
Alexandre Guimaraes calls for Super Cup in pre-season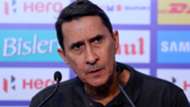 East Bengal and Mumbai City FC will battle it out for a place in the quarter-finals of the ongoing Super Cup 2018 at the Kalinga Stadium in Bhubaneswar, Odisha, on Thursday.
Ahead of the game, East Bengal head coach Khalid Jamil said, "The preparation is the same as we do in the I-League but we are playing against a better team. They (Mumbai City) are a well-organised team. So we have to be very alert. You have to be patient. Defend well and attack well. Mentally, we have to be strong as we are playing our first match," he said.
Jamil prefers not to ponder about losing the I-League title, "We have to positive. Whatever has happened (in the I-League) has happened. We have good quality Indian and foreign players. Whoever plays must give their hundred percent and make fewer mistakes because one mistake could mean the end of it.
"Even if they (Mumbai City) play with only two foreigners, they (the two foreigners) will also play well. Their Indian players are also good," he commented about their rivals having only two foreigners, namely Lucian Goain and Achille Emana at their disposal for the pre-quarterfinal clash.
Reacting to the same, Mumbai City gaffer Alexandre Guimaraes said, "In our situation, this is the opportunity for our local guys to show up.
"We have seen some games (of East Bengal). That's why I'm saying that this is not going to be an easy game. They have a good structure, organisation, players and all the situations to be competitive," he continued.
"There is no big surprise that all the teams want to win, which is usual. We expect the same kind of willingness to win from both teams. We know that we are going to play against a team which has a huge history and crowd behind them. I expect that it can be a good game with both teams playing at their best and we will see what will happen."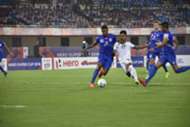 Mumbai City were up against I-League side Indian Arrows in the qualifiers of the inaugural Super Cup, where the Indian Super League (ISL) side came from behind late in the game.
"You cannot say that playing against any team can be easy. Our game (against Indian Arrows) was tough, Bengaluru's game (against Gokulam Kerala) was tough, Chennaiyin's game (against Aizawl FC) was tough.
"We won in the last minute, Bengaluru won in the last minute, Chennaiyin lost the other day. So there are no easy games. East Bengal also want to do well so it's going to be a tough match," Guimaraes explained.
The former Costa Rica international further recognised the threat players like Dudu Omagbemi and Katsumi Yusa can pose.
"We know them, especially because they played in the ISL, and they did very well - one (Dudu) with Chennaiyin and the other (Yusa) with NorthEast United. We know how important they are for the East Bengal team but our concern is how good we play," the Mumbai City coach expounded.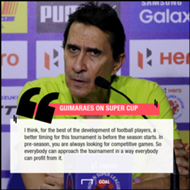 Quizzed over a number of games going into extra time, he opined, "This means that the games have been very equal and in some circumstances, the teams think that they better take it to penalties and see what happens."
Alexandre Guimaraes also offered his advice on a more suitable time for the tournament to be held.
"I think, for the best of the development of football players, a better timing for this tournament is before the season starts. In pre-season, you are always looking for competitive games. So everybody can approach the tournament in a way everybody can profit from it," he pointed out.