AIFF Super Cup
Super Cup 2018: Ranko Popovic - I wish Lajong reaches the final and wins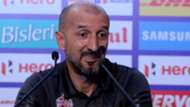 FC Pune City's season came to an end on Wednesday after they lost 2-3 against I-League side Shillong Lajong in the round of 16 of Super Cup 2018 at the Kalinga Stadium, Bhubaneswar.
Jonatan Lucca and Marcelinho had put Pune in front within 22 minutes but Abdoulaye Koffi, Rakesh Pradhan and Samuel Lalmuanpuia netted Lajong's goals and sealed a memorable win for the club.
When asked about what went wrong in the match, Pune City coach Ranko Popovic replied, "Nothing was wrong. We created many chances but didn't score the goals. Congratulations to (Shillong) Lajong. I wish them to reach the final and win the cup."
It rained heavily before the kick-off and the ground wasn't in the ideal state for a football match. But Popovic refused to blame the pitch for his team's loss. He said, "The condition was fine. It was a beautiful game. We just didn't score the goals after creating so many chances."
The coach seemed to be unperturbed after the loss in the first round of Super Cup. On asked if he had anything to say about Lajong's penalty from which they scored the winning goal, the Pune boss said, "You have seen the match, you can write what you want. I will now go for a holiday now and go to my family to enjoy. I wish everyone all the best and I wish India make it to the World Cup one day. They should learn from the mistake they are doing now and try to improve from that."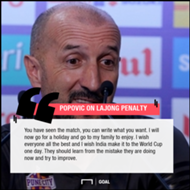 Lajong coach Alison Kharsyntiew credited his boys for showing great character against a much stronger Pune side. He said, "In the meeting before the game I told my boys to give their hundred percent. We won even after going 2-0 down so I want to congratulate my boys for their character and good attitude towards the game. They worked hard and got the three goals."
He continued, "In football, if you concede an early goal that affects team's morale. But as I said the boys showed character. They never gave up. Congratulations to them."
Lajong will face Kolkata giants and I-League rivals Mohun Bagan in the next round. On asked about his preparation for next match, Alison suggested, "At the moment we haven't planned about Mohun Bagan."