Punjab
Sukhwinder Singh to join Minerva Punjab as technical director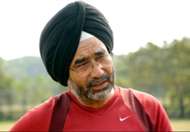 Minerva Punjab has roped in former National Football League (NFL) winning coach Sukhwinder Singh as a tecnical director for the upcoming I-League season. The veteran tactician will work jointly with the current technical director Surinder Singh and coach Sachin Badadhe, Goal can confirm. 
"Instead of bringing foreign coaches we should actually get people who have been involved with Indian football. He has been overlooked for a long time but he has still so much to give to Indian football. We are happy that Sukhi Sir has agreed to come onboard," said Ranjit Bajaj, owner of Minerva Punjab. 
Singh is a well-known name in the domestic circuit as he guided JCT to a famous NFL win in 1996-97. His notable achievements include the SAFF Cup 1998 win with the Indian senior team and the SAFF Cup 2009 win with the India U-23 team. 
"A team from Punjab is finally filling up the void left by JCT. Minerva is a much needed boost, it was necessary for Punjab football. It will motivate the boys in the state to do well as they now have a platform to prove themselves," Singh had said after Minerva's title win back in March. 
Minerva likely to play AFC matches in Jalandhar
Meanwhile, Minerva Punjab will most likely play their AFC Cup matches at the Guru Govind Singh Stadium in Jalandhar. The stadium used to host JCT till 2011 when the club shut its operations. One round of inspection has already been carried out by the All India Fooball Federation but are yet to issue a clearance. If it does not get the required permission, then Minerva will play its matches at the Jawaharlal Nehru stadium in New Delhi. 
"They have asked us to install 1500 more bucket seats. The stadium currently has 3500 bucket seats and they want to take the number to 5000. Everything else is fine. Obviously they have suggested some other upgradations as well but they are pretty minor and will not require any major investment.
"The only problem is that the pitch has not been used for a match of this magnitude for a pretty long time, but if they give us two months time we will work on it and turn it world-class," said Bajaj.