Kaizer Chiefs
Steve Komphela hinted that I might join Kaizer Chiefs if I continued to do well, says Philani Zulu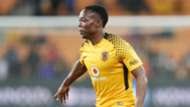 Kaizer Chiefs recently acquired the services of Philani Zulu during the July/August transfer window.
Following a slow start to his Chiefs career, the 24-year-old has come into his own of recent times and has flourished in the absence of more established full-backs such as Tsepo Masilela and Sibusiso Khumalo.
However, Zulu says that it wasn't easy adjusting to life at Naturena at first, and admits that he found it difficult to up his fitness after being side-lined by his former team Maritzburg United.
"It was a bit difficult because I was out for a while and had to do a lot of work to get back my match fitness. I had to do extra work to keep up with the team," he was quoted by Phakaaathi as saying.
Furthermore, Zulu explained how he coped with being sent to train on his own after a contractual dispute at the KwaZulu-Natal outfit.
"It wasn't that hard. I didn't know I was that strong," he explained.
"But being strong was the only option for me. Just because we didn't agree on terms was not the end of the world for me. I had to look forward for greener pastures which eventually happened," he added.
When Zulu eventually made his move to the Soweto giants, reports suggested that he was recruited by Steve Komphela, and Zulu has not denied that the former Team of Choice coach was the reason for his decision to leave.
"I won't say it's true or false but he did mention it in passing that if I continued doing well I might join him here at Chiefs," Zulu admitted.
Meanwhile, Zulu has become known as versatile player as he can easily shift focus from the left back position to the midfield, which he says gives him an advantage.
"Versatility is an advantage because it keeps you on your toes. It gets you more chances to play because you can plug in at any position," he stated.
Zulu went on to further acknowledge that adjusting to the pressures of playing for a club with such high expectations is not easy.
"It is a bit difficult because Chiefs are a big team. They always have to win something and that has not happened in the past two seasons. That is a challenge we are facing. We are working on making sure we win something this season," he concluded.