Kaizer Chiefs
Steve Komphela explains Kaizer Chiefs defensive approach against Cape Town City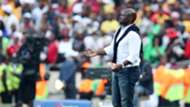 Kaizer Chiefs coach Steve Komphela conceded they did adopt a defensive approach to walk away with the maximum points against Cape Town City.
"There are two ways of playing football. Whether you give the initiative or you take it. And we opted to give the initiative for obvious reasons because if you take the initiative and you are too expansive, you are creating too big a distance for the players and your wing backs will then have to keep bombing forward," Komphela told Sowetan.
They came into the game with their backs against the wall, having failed to win any of their opening matches in all competitions.
A winless start was not to be legislated in any aspect by the Amakhosi faithful who for two seasons now have been calling for the head of Komphela.
"The amount of kilometres they clock is going to be very high and chances you need to handle is a lot, if you are playing an honest game. But we needed to be smart and it's true we sat back but it paid off," Komphela said.
"We didn't only park the bus, we came out nicely and played. You would expect Chiefs to be more dictating, be more on the ball and all that," Komphela said.
Given the injuries they carried into the game, Komphela says they had to agree with results over expansive football.
"We have to maximize what you have. Of course, you want to play football but results are a priority," Komphela said.