FA Cup
Star Lager Beer consumers to watch English FA Cup final live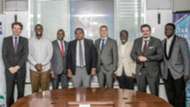 Five Star Lager consumers will watch the English FA Cup final between Chelsea and Arsenal live at the Wembley Stadium, courtesy Nigeria's No. 1 beer brand, Star Lager Beer.
The lucky fans, who are scheduled to leave the shores of the country on May 24th will get a once in a lifetime opportunity to watch two of the biggest club in England, Chelsea Football Club (2017 English Premier League Champions) and Arsenal Football Club (2014 and 2015 FA Winners) slug it out against each other in a match that promises to be 90 minutes of pulsating footballing action at the historic Wembley Stadium.
The premium beer brand in 2016 and early 2017 became the official beer partner of Arsenal Football Club and five other major European clubs thereby offering Star beer consumers and football fans in Nigeria a range of club-related benefits and an improved football experience.
This development reinforces Star Lager Beer's unwavering commitment to delighting its consumers who form a huge chunk of football fans in Nigeria.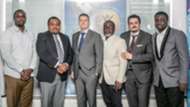 One of the lucky fans, Olakumbi Titiloye said: "I'm very excited to be making this trip. As a die-hard football fan, seeing live action at the stadium, especially an FA Cup final at Wembley of all places, is one opportunity I wouldn't miss and an experience I would forever cherish. It's a proud moment for me and I deeply appreciate this lifetime opportunity Star is offering me and other football fans."
Tokunbo Adodo, Portfolio Manager, National Premium, Nigerian Breweries Plc, said: "Star Lager Beer is all about premium quality and adding fun and excitement to the lives of our consumers and football lovers across the country. As with every initiative we undertake, this all-expense paid trip to see the FA Cup final live at Wembley stadium this Saturday, is yet another clear demonstration of how importantly we take consumer delight. It's certainly going to be a very memorable experience for the lucky consumers and football fans."
Star Lager Beer, Nigeria's No. 1 beer brand, was introduced into the Nigerian market on June 2, 1949 as the first indigenously brewed beer in a market that was dominated exclusively by imported brands.
STAR is largely responsible for the growth of the Nigerian indigenous beer industry as its success story has influenced the introduction of other successful brands.