Premier League
Steve McManaman - It is very generous of Liverpool to open up the pitch for the lucky fans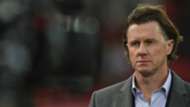 Ex-Liverpool playmaker Steve Mcmanaman visited the city of Mumbai on 1st April, 2017 as a part of Standard Chartered Trophy in the metropolis. The global banking organisation are partners with Merseyside club Liverpool FC. 
The 'Standard Chartered Trophy - Road to Anfield 2017' is an international 5-a-side football tournament which will take place in Mumbai this month.
Speaking on the exciting competition, 45-year-old McManaman stated that he is chuffed to witness the contest in India. Further, he expressed that the winners are indeed fortunate to be gifted a chance to play at the hallowed turf of Anfield.
''The Standard Chartered Trophy is what brings me here to Mumbai. I'm looking forward to see the teams play. Also, I'm looking forward to see the standard of players. The prize to go and play at Anfield is a wonderful prize for the lucky winners. It should be exciting,'' he commented.
The activation provides Standard Chartered a platform to actively engage clients and football fans. This is the third year Standard Chartered Bank Uganda Limited is undertaking the Standard Chartered Trophy. Discussing about the contest, the former English international credited Liverpool for their magnanimity on offering the field for the youngsters to play. Moreover, the football pundit explained the importance of performing at Anfield.
''Firstly, I feel it is very important that the people have an opportunity to play at Anfield. It is very generous of Liverpool to open up the pitch for the lucky fans. It's an incredible opportunity for the fans - it's a ground steeped in history. It's a ground that hasn't moved or changed. Most famous of past and present Liverpool players have played on the same surface. I think it's an amazing prize. I believe if you are ever given a wonderful opportunity to play at Anfield, you should really grasp it,'' he concluded.