Transfers
Socceroos legend Cahill completes Millwall return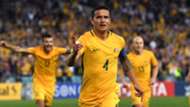 Tim Cahill has made his return to English football, linking up with Millwall, the club where he made his professional debut.
The club announced the move on Monday, confirming the Australia international will be presented to the crowd before Tuesday night's Championship match against Derby County, though they have not announced when the 38-year-old attacker will be available for selection. 
Millwall, who currently sit 15th in the Championship on 34 points, confirmed the deal is for the remainder of the 2017-18 campaign. 
"It's hard to put into words [what it feels like to wear a Millwall shirt once again]," Cahill said in quotes published on Millwall's official website. "I'm still taking it in now. The first thing I wanted to do when with [manager Neil Harris] was to walk on the pitch and in the tunnel and have that feeling again that brings back so many memories.
"Once you go over that white line, you get a nervous sensation back that I had when I was a 16-year-old when I first signed here."
Millwall was Cahill's first English club after leaving Australia as a youth player in 1997. He made his Millwall professional debut in 1998 and played with the club until 2004, making 251 appearances for the Lions and scoring 57 goals.
Cahill moved to Everton for a £1.5 million fee in July 2004, and featured with the Toffees for eight seasons. He then spent three season with the New York Red Bulls of Major League Soccer in the United States before moving to the Chinese Super League for spells with Shanghai Shenhua and Hangzhou. 
Cahill returned to his native Australia to play for Melbourne City in the 2016-17 season and the first part of the 2017-18 campaign, before agreeing to a move back to Millwall. 
"The players will thrive off the enthusiasm that he brings," Millwall manager Neil Harris told the club's website. "When I played with him, I appreciated what he did. Since then, I've followed his career and admired what he has done and I know full well what he can bring to my dressing room."
Cahill confirmed he hopes this return to Millwall can help him secure a place in the Australia squad for the 2018 World Cup in Russia, with the veteran eyeing a fourth global tournament appearance. 
"I'm really happy," Cahill added. "I've had a great career as a footballer, but to come here now at this stage of my career, with eyes on a World Cup place, it's such a professional environment.
"It's familiar. Not much has really changed, which is surprising, but it's nice to come back to where I was as a kid.
"The romance of the story is definitely not lost on me. I've always said that if I came back to England, I'd come home. Millwall is where I learnt my trade and it was the most important learning period of my life — my apprenticeship in understanding football. 
"To come home to where it all started, it's emotional, but it's happy emotions, because you wish for it to happen, you want it to happen, but when it finally comes to fruition, it's the perfect move."