Singapore
Reminder: Don't forget to get your tickets for Singapore's national team friendlies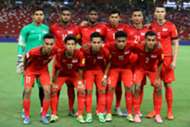 Singapore will be playing three friendly matches at Bishan Stadium in September and October. Fandi Ahmad's charges will face Mauritius on 7 September, Fiji on 11 September and Mongolia on 12 October, before traveling to Phnom Penh to take on Cambodia on 16 October.
Significantly the friendlies will be part of the Lions' preparations for the 2018 ASEAN Football Federation (AFF) Suzuki Cup. Moreover, the matches will be Fandi Ahmad's first since his appointment as the Head Coach for the Lions' Suzuki Cup campaign.
Tickets are available from fas.org.sg/tickets and onsite on match-days. Fans are urged to buy their tickets early online to avoid the queues on match-day. The ticket prices (inclusive of ticketing fees) are as follows. All matches will kick off at 7.30pm at Bishan Stadium.
Date
Match

Single match 

Adult
 

Single match

Concession*

Two matches bundle
Adult

Two matches bundle
 

Concession*

 Three matches bundle

Adult

 Three matches bundle

Concession*

 

7 Sep 2018

7.30pm

Singapore v Mauritius
$12

$6
 

$20
 

$10
 




$27

11 Sep 2018

7.30pm

Singapore v Fiji
$12

$6
 

 
 
 
 
12 Oct 2018

7.30pm

Singapore v Mongolia
$12

$6
 

 
 
 
 
 
 
 
 
 
 
 
 

* Concession tickets are applicable to Students aged 16 and below, and Senior Citizens aged 60 and above.​
The role of the 12th man will be needed as Singapore prepares to try and add to their four AFF Suzuki Cup crowns. So do come down to show your support and reignite the roar of the Lions because together we can.