Simba
Simba celebrate the title with win over Singida United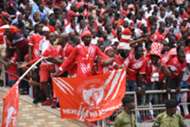 Coach Pierre Lechantre has revealed that Simba is still focused on chasing the unbeaten record after they celebrated being champions by beating Singida United 1-0 at the Namfua stadium, Singida.
Simba were given a guard of honor and there were celebrations at full-time in their first match since their first league title in five seasons was confirmed.
The Wekundu wa Msimbazi secured the title after their arch rivals Yanga accepted defeat against Tanzania Prison last Thursday.
The victory against Singida United took them to 68 points, with two games to go before securing the unbeaten record which they set for the first time in 2009-10.
"The league is won, now its records, it's always an unfinished business in football, you have to keep improving" said Lechantre.
In the match against Singida United, a first half goal from Simba's right full-back Shomari Kapombe ensured three points for his side.
Kapombe capitalized from Shafiq Betambuze poor back pass to goalkeeper Ali Mustapha. Initially, John Bocco intercepted the ball before dropping to Kapombe who scored an easy goal.
Singida United returned in the second strongly but Simba defensive line stood firm until the final whistle.
Simba will be handed the Premier League trophy in their last home game against Kagera Sugar on May 20.