Premier League
Shaw reflects on 'sad night' for Man Utd as 'stupid' goals move Mourinho to the brink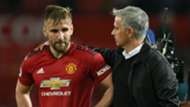 Luke Shaw admits that Manchester United conceded "stupid" goals on a "sad night" against Tottenham which saw Jose Mourinho's side slip deeper into the mire.
The Red Devils entered a home date with Spurs on Monday desperately seeking a boost to morale after a period of tough questions and disjointed performances.
Unfortunately for them, a 3-0 defeat has only served to pile yet more pressure onto a beleaguered boss and underperforming squad.
Shaw concedes that more "silly mistakes" contributed to United making their worst to a season in 26 years, but the England international is refusing to get carried away by the wave of pessimism sweeping through the red half of Manchester.
He told MUTV: "You look at the first half and I think we were outstanding.
"We had a lot of chances to put the game to bed. Of the chances we had, [we should have scored] maybe one or two, then for me it would have been 'game over'.
"We spoke at half-time and Jose said they hadn't had one corner, one cross or one dangerous opportunity. Then, from their first corner in the second half they had a goal [from Harry Kane], but even then we should have been relaxed because it was only one goal and we still had a lot of time.
"But then came another mistake, another silly, stupid goal. We were so on top and it is just really disappointing, everyone in the dressing room is really sad, especially after the first half we had."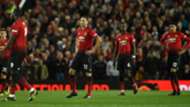 After conceding to Kane, United went on to see Lucas Moura bag a brace to wrap up the points for Spurs.
Shaw admits that the Red Devils need to offer a positive response in their next outing against Burnley, with spirits still high inside the camp despite a testing opening to 2018-19.
He added: "It is a sad night for us, we have got to pick ourselves back up, keep working hard and we need to pick up points after two losses.
"We need to win and win in a good way. We played really well in the first half and if we keep playing like that, and take our chances, then we will win games.
"You see a lot of things in the media that go on about what our dressing room is like, but we have a really good spirit, a really good group of lads who want to work and achieve big things here.
"We have a group of hard workers and amazing talents, everywhere you look on the field. We have got to start taking our chances and I am sure we will start winning games."