Evan Dimas
Selangor to let Evan, Ilham play against World Cup debutantes Iceland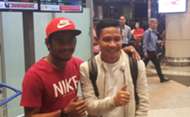 ---
BY        ZULHILMI ZAINAL       Follow on Twitter
---
Although Selangor's new Indonesian signings Evan Dimas Darmono and Ilham Udin Armaiyn have only been with the club for less than a week, the club are willing to let them return to Indonesia this week.
The duo has been called up to the Indonesia squad that will take on World Cup debutants Iceland in a friendly match that will be held on Sunday, January 14 at the Gelora Bung Karno Stadium, Jakarta.
(A report by Goal yesterday erroneously stated that the duo has been called up to the Indonesian Selection side. This team, coached by Robert Alberts, will take on Iceland at the Maguwoharjo Stadium in Sleman on Thursday, January 11.)
The Red Giants team manager Datuk Abdul Rauf Ahmad, when met by the press following their pre-season friendly against Terengganu II on Wednesday evening, said that the club will honour their agreement with the Indonesian FA.
"We have agreed and expected (to release Evan and Ilham) earlier, so tomorrow (Thursday) they will return to Indonesia. They will then join the Indonesia national team in their friendly against Iceland on Sunday, and they will rejoin us after the match," remarked the former player.
Head coach Maniam Pachaiappan chooses to view the pair's departure positively, as they may get the opportunity to play against a very good national side.
"When they play international games, their confidence levels will increase and this will help our team. It's good for them to go back and play in the friendly.
"Hopefully they will come back here with more confidence and no injuries," noted Maniam.
When asked about the pair's performance, as well as that of Selangor's other latest signing Willian Pacheco, in the match against Terengganu II, the 49-year old trainer said he was pleased with what he saw, but asked for the three to be given more time to proof their capabilities.
The match, which was held at the Sime Darby training ground in Shah Alam was Evan, Ilham and Willian's first ever match for Selangor, and ended in a 1-0 win to the Red Giants. Veteran player Amri Yahyah scored the only goal of the encounter, a penalty which was awarded for a handball infiringement following an effort by Ilham.
"Dimas and Willian are good players and have the quality. They did not combine well just now, which is understandable as they've only joined us not too long ago, for three or four training sessions.
"But with Willian especially, he adapted and organised (the defence) very well. The Indonesian boys and Willian need more preparation time with the team, maybe two more weeks," he explained.