Liga MX
Santos pulls out another home win, but one-goal advantage might not be enough to win Liga MX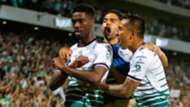 Julio Furch scored in the 89th minute for Santos Laguna to give the home team a 2-1 victory in the first leg of the Liga MX final Thursday. Turn the lights off. Time to take the series to Toulca.
That literally happened, with a bank of lights going out after Furch's crucial goal and fans trying to see their team home by flipping on their cell phone flashlights. Bryan Lozano's assist for Furch was more important than the fans' quick thinking. Without his ball leading to Furch's tally, Santos' task in Toluca would've been even more difficult.
Now Santos has the advantage in the final after winning all three of the home matches it played during the postseason. Unlike the semi-final series against America, however, Los Guerreros don't have much of a cushion at all. One unanswered goal for the Red Devils at home, a place where they haven't lost since October 2017, and it will be Toluca lifting the title.
Santos did a decent job limiting the creative threats posed by Rubens Sambueza and Pablo Barrientos, but didn't limit chances. Toluca ended up with a dozen shots but were wasteful, putting just a pair of those efforts on goal and hitting the post twice early. Even with the subpar finishing displayed by the visitors, the series could be in Toluca's hands after it avoided the type of beatdown Santos put on America in last week's semi-final first leg.
"It's total satisfaction for the result and for the guys' efforts and above all being able to make the fans happy," Santos manager Robert Siboldi said after the match. "We have to win playing, playing well, trying to take advantage of our chances and despite the fact that we didn't start the game well we were able to get an advantage and put ourselves on top for the second leg.
"I think that's been the characteristic of this team, to always put in a good effort, give 100 percent and once more we played a very tough game to try to play and put in a good effort.
"I think we were able to give our fans a lot of satisfaction. The series is open, it's not closed and overall we played a good match."
Siboldi went on to say that the team will go out Sunday to win that game as well, and with players who can score goals like Djaniny, who had the first on Thursday, Furch and Osvaldo Martinez, a goal for Santos in Toluca could give them a win or tie that would see them win a title they were long shots to claim at the start of the year.
Hernan Cristante, the Toluca coach, saw his team carry out his game plan for the most part. His side frustrated Santos in the first half and found the opening goal on the counter-attack. The Argentine was calm after the match, and he generally takes his foot off the brake when the team goes back home, allowing for more experimentation and attacks.
"Play very well," Cristante said when asked what his team needs to do in the second leg. "It's going to be a very difficult match like this one. It's going to be game where they're going to look to use their strength, which is their speed in attack. It's a team where they double things up very quickly, so we have to be cautious. Obviously the team has to take a few risks to go for the result we're looking for."
Toluca didn't get the result it was looking for Thursday after Furch's lights-out late winner. But while Santos is pleased with the win, it's easy to wonder if the Guerreros did enough to stop a Toluca team that has been so dangerous at the Estadio Nemesio Diez during the season.
What both teams did make sure of is that everything is still on the table Sunday, setting up a final decider in which anything can happen.