Friendlies
Safa deny approaching Krol for Bafana job amid reports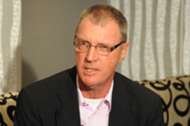 South African Football Association (Safa) was said to have agreed terms with legendary Dutch coach and defender Rudolf 'Ruud' Krol.

This was according to a Mail & Guardian source within Safa. Krol, who is currently unemployed, has coached Egypt and Tunisia national teams on the African continent.

"Safa stated openly when they advertised the post that the criteria required for a successful Bafana Bafana coach would be an intimate and extensive knowledge of the African game," the source said.

"The criteria as elucidated by Safa goes on to point out that the successful candidate must have an excellent understanding of the South African playing philosophy, or playing style, as some people like to describe our approach to the game," the source continued.

"In fact, it goes on to explain that he must have international coaching experience with a good track record allied to a vision and passion for football development and good player management to complete Safa's Vision 2022," the source explained.

"He has coached in his native Holland. But he has also worked mainly in Africa since 1994 when he took charge of the Egyptian U-23's and later the senior team and what appears to have given him an added advantage is that he is available to start working without delay," the source added.

"South Africa's next official matches are the back-to-back 2018 FIFA World Cup qualifiers against Cape Verde during August and September," source revealed.

"So the Guinea-Bissau and Angola matches have been arranged entirely because the two teams play similar to their Portuguese-speaking 'Blue Sharks' of Cape Verde," the source stressed.

"The thinking behind arranging the two teams is to allow Bafana Bafana to get a sense of what to expect from Cape Verde, but also to give the new coach an opportunity to see the kind of personnel he would be working with," the source concluded.