South Africa
Safa confirms talks with Quinton Fortune over Bafana Bafana coaching job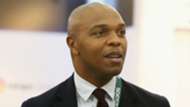 Former Manchester United midfielder Quinton Fortune could be apppointed Bafana Bafana assistant coach.
This was confirmed by Bafana head coach Stuart Baxter, who is keen to work with Fortune.
Baxter has already started preparing for the crucial 2018 Fifa World Cup qualifiers against Cape Verde in back to back clashes.
The first match takes place on Friday, 1 September in Cape Verde, with the next fixture four days later (Tuesday, 5 September) at the Moses Mabhida Stadium in Durban.
As a result, Bafana assistant coach Thabo Senong will lead the team to Zambia in the second-leg clash of the 2018 Chan qualifier and he is likely be accompanied to Ndola by Fortune.
"Because of the difficulties we have had, I have had little time to concentrate on the absolutely vital assignment, and that is the Cape Verde qualifiers. And based on that and also based on the fact that this is about development, I won't be travelling to Zambia. I am going to use that time to watch some PSL games over the weekend, and prepare for the squad announcement on Monday (21 August)," Baxter told the Safa official website.
"This gives me a couple of days to clear my head, do my analysis and check on players. This is also gives Thabo the chance to take some responsibility as we are talking about development. We have decided this is the best possible way to go," he said.
"Senong could be assisted by former Bafana Bafana midfielder Quinton Fortune who is in the country to hold talks with the South African Football Association (SAFA) about a possible appointment into Baxter's technical team," he added.
"One of the staff that will be travelling to Zambia, albeit in a temporary basis, is Quinton Fortune. He arrived this morning (Wednesday, 16 August), and will follow the training session this afternoon at the FNB Stadium and will basically attend everything that we do in camp. We are still to decide if he will go with Thabo to be a some kind of an assistant or spectator – just to see how we do things," he continued.
"When the squad gets back, there will be a conversation between him and the Association to see if we have found any common ground, and also to check if there is any room for us to bring him on board on a permanent basis. What is happening now is just a matter of the two parties having a look and see of the situation," he concluded.
@BafanaBafana legend, Quinton Fortune is with the Bafana Bafana camp that will be guided by Thabo Senong in Zambia. pic.twitter.com/dRGh9swjNo

— SAFA.net (@SAFA_net) August 16, 2017