Western Sydney Wanderers
Judge my football not my age - Griffiths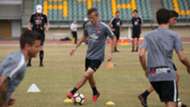 New Western Sydney Wanderers striker Ryan Griffiths says fans shouldn't be worried about his age, declaring he's in "good nick" and will help solve the club's goal-scoring woes.
The journeyman forward was unveiled as a Wanderers player on Tuesday before taking part in his first training session with the club.
Griffiths joins Western Sydney from Hong Kong Premier League club South China and could come straight into the squad for the Wanderers' clash with Wellington Phoenix on Saturday.
Scoring goals has been a huge issue for the Wanderers in 2016-17 with just 20 from 17 games but Griffiths is confident he can change all that.
"Definitely there will be goals there," he told reporters on Tuesday. 
"It's one thing I love to do, that's why I play.
"I'll do my best to help whether I score or someone else, it doesn't bother me as long as we can get some results and get back into the top six."
Wanderers confirm Griffiths capture
The 35-year-old's signing has been met with scepticism from some Wanderers fans, who believe his age is an issue.
But the former Newcastle Jets and Adelaide United striker says critics should watch him play before passing judgement.
"A lot of people do criticise older players but also a lot of people criticise players and they haven't seen what they have done recently or where they have played or researched the player," Griffiths said.
"People are quick to jump on anything. I guess they can only judge by looking at me on the field.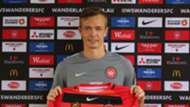 "I'm in good nick, I feel good and there was definitely offers there still in Asia. But it was nice to get an opportunity to come back home and play for one of the biggest clubs in Australia.
"My plan is to play until I feel I can't anymore. Everyone says 'you're 35' but you see a lot of players play until they're 40 and recently a player play until he was 50.
"If you keep yourself in good shape, it shouldn't be a problem… I just have to use my experience and be smart. I'm going to run 100 per cent in every challenge until I fall over and they have to drag me off the pitch."
Popovic: Wanderers can win A-League
Griffiths admitted he jumped at the chance to return to the A-League when he got the call from Tony Popovic and says he returns to the competition a mentally stronger player.
The lure of playing in the AFC Champions League (ACL) again was another factor in his decision, with the Wanderers' group stage starting in three weeks with a home clash against Urawa Red Diamonds.
"I have played in the ACL before and I guess that's one of the reasons Tony wanted me back here to help some of the younger lads," Griffiths said.
"To express my experience and show them the ropes of the ACL.
"It's exciting to play in the ACL again… obviously Western Sydney have had some amazing success there and I'd like to be a part of that again."