Arsenal
Ryan Garry comes full circle with Arsenal and football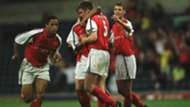 In recent times, Arsenal fans have been calling for the football club to bring home ex players back into the club for them to lead and guide the next batch of footballers. Ryan Garry might not be a household name like a Thierry Henry or Dennis Bergkamp or even a Ray Parlour but he's at the very least a former Gunner now working with the club he used to play for.
Garry may not have an Arsenal career that endears him to many Gooners but he was one of those that came up through the ranks, right from the academy. Jack Wilshere is still held dear to many fans because he's one of their own and in many ways, so is Garry.
He joined the Arsenal academy at the age of eight having been scouted playing for a Sunday league team in East London, Garry progressed through the ranks until he was offered a professional contract with the club when he turned 16.
"My personal goal was always try to be a professional footballer for Arsenal but I think at that stage, my younger years, it was always the case of trying to be the best player and trying to improve," says Garry. "And I think year on year, I was able to do that with the help of the coaches and my family.
"There were some fantastic coaches that I had on my journey. People like Don Howe, who was a very good coach. He was one of the youth team managers. There was Neil Banfield who is now with the first team. They were able to give me good advice on my development pathway.
"I made my debut for the first team when I was 19 and that was three years after leaving school. That was a dream came true. Obviously you aim to play for the first team but you know there's a lot of work to do to get there.
"I was very happy to make my debut and I knew that I have to continue to work hard and listen to the coaches. By this time Arsene Wenger was the first team manager and you have to try to get selected for first team training. And when you are training with the first team, you have to try to impress him and try to take on all the information."
Arsenal had a solid if not spectacular bunch of youngsters coming through the age groups at that time, some of whom went on to have long careers from the Premier League level all the way down to the lower divisions.
Steven Sidwell, Moritz Volz, Jeremie Aliadiere and Jermaine Pennant were one year older while the likes of John Spicer, Alex Bailey and David Bentley were part of the group that Garry came up with.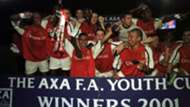 Winning the FA Youth Cup along with the national under-17 and under-19 titles along the way meant that these players were catching a lot of attention not only from the people higher up in the Arsenal hierarchy but also scouts from other clubs.
Just when things were looking on the up for Garry, disaster struck and precious time on the pitch was lost that also meant that he will have to depart from the club that he has been with for a long time.
"Unfortunately, in and around the time when I made my first Premier League start, myself and the club didn't really know how bad the injury was until it was fully investigated. And when it was investigated, we were made aware of how serious it was.
"In the end, I had stress fracture in both of my shins. I was playing with sore shins and didn't realised how bad it was until we had it x-rayed and doctors looked at it. So what happened was that after trying for the best of the season with no football, just rehab my bones to let it heal, it didn't.
"So I had an operation to put rods into both of my shins. Now, I already lost one year. I had that surgery done and I try to come back six months later but I was still facing some discomfort. So I had to wait a little while longer for the bones to fully heal.
"While waiting, there were a lot of complications from the surgery. I developed compartment syndrome and by then I've already missed two and half years from when the injury was found out. I tried to get back fit, I remember I felt like I was getting my fitness and confidence back. Managed to get back on the bench for the first team but unfortunately a week later, I broke my leg in training.
"This was the 2006-07 season and I was in my last year of contract with the club. I spoke to the manager and he said that he can't offer me another contract but the club will offer the best help to get back fit. Then I had the opportunity to go on trial with League One, Bournemouth.
"Kevin Bond liked what I did and they offered me a contract. Everything was going well in Bournemouth then I broke my leg again but in a different place. Went through another rehab cycle then I played four seasons with the club. It was another injury later that made me call time on my playing career and switch to coaching."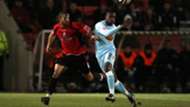 Bournemouth was the first one that provided the road for Garry to move into coaching but it has been a pathway that he has kept an eye on ever since his first big injury. The determination not to completely fall off the face of football became his driving motivation which ultimately led him full circle.
The club from the south coast gave him a chance immediately with the first team rather than the younger age groups and the then 27-year-old Garry wasn't going to turn it down. Despite the opportunity only lasting until the end of that 2011-12 season, it was a valuable experience gained.
A year spent with Nike academy was next on the cards where Garry helped players released by Premier League clubs with 11 months of training to help them secure their next club before the call finally came from a familiar place.
"When I took that role (Nike academy), I knew that it was only for one season. What happened was that, when I stopped playing, I would often go in to see the Arsenal academy train because it was fairly closed to where I lived. They asked me what I was doing at the moment, and they offered me the chance to do some part-time coaching, so I did.
"Then an opportunity came when someone left. I applied but didn't get that job. But another role came up and I was very fortunate to get that. That role was basically to be the head coach of the Under-15s and assist the other age group. 
"Football is now such a growing sport because of the money and resources. What you want to try and make sure happens for the best interest of the club is to hold on to its tradition and values. Sometimes that can be a player, a staff member who has been there a long time, someone who can share what has gone on in the past.
"If you look at a club like Manchester United, they have a way of passing a message on from generation to generation. I think that certainly players that have played for the club can do that. It also could be someone from the medical department or the recruitment department.
"If you look at Arsenal now, someone like Steve Bould who was a fantastic player with the first team, who spent 10 years with the academy and now is with the first team. A real Arsenal man for many many years. So it's important to have that so that the boys who are trying to make it through, they understand that the tradition and the values of the club."
The challenges when working with young kids is a completely different thing compared to working with elder professional. Education remains a big part of the process in the lower age groups and that is something which resonates deeply with Garry as well.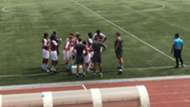 "Obviously the study is very important because we realise that not all of these players are going to play for Arsenal. I myself am a big fan of making sure that the boys have an all-round education and that they don't neglect their schoolwork.
"At Hale End, we have U9s to U16s. So if you're with the U9s, you come in 3 times a week for training and you have a game at the weekend. When the boys get to U12s, we start a different education program so the boys will miss one day at school in the week where they come in to do education and training. When they get to 15 or 16, they do two half days.
"We have a head of education who organises those lessons. What we feel is best for them is that they have their own friends at their schools near home because it gives them a well rounded understanding of schools.
"We believe that if you were to come out of your normal schools and just being around footballers, that isn't necessarily helpful. If you have friend who are footballers and maybe like art, that would be good. Not just football, football, football. So that's how we work. But I believe there's no right or wrong way, it has to be the way that the staffs feel is the best way."
Youth development in football requires attention to details from many aspects and it becomes a tough juggling act. In trying to produce players capable of filling spots in the first team, youth coaches like Garry are looking to do it with a more holistic approach. It's not just about producing the most technically brilliant player but also ones with strong willpower.
"Arsenal play in the Premier League and it's known around the world as one of the toughest league because you have players from all over the world. Because of that, the competition is very high. You take that in and see what we need to prepare the young boys for.
"We need to prepare them for a league that is very strong, played by elite players in all positions. When you're looking to provide for that level, all the things have to be the best it can be. I don't think there's one single thing that we can think that's the most important.
"You have to have the technical level but I think you can't be just be a technician now, you have be a very good athlete in whatever position that you play. The psychological element of football is going to be massive in years to come. Everyone is going to be a good technician. I think everyone would be a good athlete.
"The players would be tactically aware so the psychological element could be maybe the biggest area to improve. If the player psychologically is in a good place, he'll probably give a good performance.
"What we certainly try to do with our players is that it isn't always about winning at a young age but where they want to go, it is. So when they go along the pathway, you need to develop them to understand that they have to win.
"By the end of the day, if I was to say that win a tournament, it would be great for the boys. But it doesn't mean that they are going to play in the Premier League. You can't think that you have to win at a young age but a developing player has to experience winning at that age but also to experience losing.
"So it's getting that balance. You have to explain to the boys and their parents. You learn a lot in life sometimes when you've lost and you're not playing well. Hopefully along the journey, you get them to the point where it comes together and they understand about winning."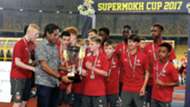 Garry took his Arsenal Under-15 team to Kuala Lumpur for the 2017 Super Mokh Cup in late December and his team went all the way to win the tournament, winning all five matches that they played in. It was an experience treasured by Garry and the players particularly when they got to play the final in the fantastic Bukit Jalil National Stadium that can hold a capacity of close to 90,000 spectators.
"It's was fantastic. Back in the UK, we don't experience these conditions like the heat. Players this week have had to play in conditions that they don't normally play in. They get the pressure of trying to get out of the group stage, the pressure of a semi-final.
"They've got different oppositions, different ways of playing and different food at the hotel. All of these things are new experiences. We've been very happy with the tournament because it's been new learning for the boys.
"That will give them the opportunity to think that they've gone away from home and travelled halfway across the world, the heat, the conditions, the referees and the oppositions –if they haven't gone through it, they wouldn't have bits of learning. The tournament has been terrific.
"One of the reasons why it was attractive to Arsenal was because of the location. There was an element that this could be something new for the boys and the staffs. We gather round every night and talk about the new experiences that we've learnt. It's been a great learning for football but also stuffs off the pitch."
In the tournament, Garry was seen using a four-man defence formation which is different from what Wenger does with the first team. Admitting that it was necessary to expose the system that the first team use to all the age groups, it wasn't one which they strictly needed to adhere to.
"At the back end of last year, he (Wenger) used a different system. I know that the U23s, U18s and U16s and my group the U15s; at times this year we've gone three at the back as well. To be honest with you, it's probably due to the conditions here (Kuala Lumpur) that we've played four. And also as well it is a combination of my age group and a younger age group.
"I spoke to the boys and we decided as a staff that maybe four at the back was best. But it's not a strict policy top down. You have to try and make sure that your youth team play like the first team does. Then that way they have a better understanding of how they need to play. This year, those older age group have that experience by using the same system."
When Garry was told back in 1999 that he will be offered a professional contract with Arsenal, it wasn't a decision made to many of his fellow friends from the academy.  It has now been a responsibility entrusted into the hands of Garry to make the same calls and it's the toughest part of the job.
"Very difficult. When you're in this role and you're trying to develop players, it's very difficult when you have to sit down and say to someone that you're not good enough. And the challenges are as well when as a group of staff that you have that discussion and decide that someone isn't good enough – it doesn't mean that you're right.
"Ideally, you're making the correct decision. What I say to players that I have to release is that – I'm not saying I'm right. This is the decision that we have to make at this time. We still want you to have success even if it's not at Arsenal. We hope that we've given you a lot of good information that you could go on and use. And we want you to prove us wrong. We want you to play at the highest level that you can.
"And you have to make sure that you can help and support the boy and his family because for some, they have been there since the age of nine and they are getting told when they are 16 that they are not getting a contract. Sometimes the boy will get told that decision when they are 18 or 19; whenever you get told, it isn't nice.
"But the challenge is whether you can produce a player for Arsenal but if not, can he be someone for another Premier League team. There's example of that with Isaac Hayden at the moment with Newcastle. He left Arsenal but he's playing now in the Premier League.
"Last year, once I knew that some players were to be leaving us, we would as a club contact clubs local to where the player lives. And we would give them any information that we hold, asking the recruitment people at the club to come in and have a look.
"Ideally when you're saying to a player that he's going to be leaving us, you've got options to give them. Because we want to help them stay in football, if they want to. It's helpful to give these young people the next step in keeping their dreams, even if it's not at Arsenal. You want them to still have that dream and desire to be a footballer. Whether it's a Premier League club or somewhere lower, it's still a success in our eyes.