WTF
Russian club seeks owner of misplaced bra after Rostov match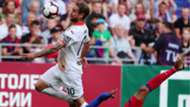 Russian club Ural have released an incredible list of lost property after their clash with Rostov, which included a brassiere and a corkscrew. 
The Yekaterinaburg-based club are currently 12th in Russia's Premier League after a tough start to the season. 
One of their more positive results so far in the campaign came last Monday, when high-flying Rostov were held to a 1-1 draw. 
From the sounds of things, the atmosphere during the draw was rather heated, if Ural's lost and found department is anything to go by. 
"Dear fans, if you lose things in the Yekaterinaburg Arena you have the chance to get them back," the club explained in a statement. 
"The list of lost property after the Ural-Rostov match: pictures, a bra, deodorant, food containers, thermos flasks, gloves, several sets of keys, a corkscrew, scissors, a wrench, umbrellas, tweezers, a nasal inhaler and bank cards."
Ural further revealed that the owner of said bra and corkscrew would be able to pick up their lost items at the stadium. 
It was not just in Russia that supporters were misplacing their personal property, however. 
Found: Has anybody lost their false teeth at Accrington Stanley this afternoon? They are being kept in the office! 😁 pic.twitter.com/HA66wikU74

— Accrington Stanley (@ASFCofficial) 22 de septiembre de 2018
League One's Accrington Stanley published their own appeal after finding a fetching set of false teeth in the stands. 
What is the strangest thing you have lost in a football stadium? Let us know!