A-League
Why Roy O'Donovan's 10-game A-League suspension doesn't add up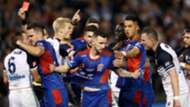 Careless and reckless are two ways Roy O'Donovan's own defence described the striker's injury-time collision with Lawrence Thomas, but as the product of desperation and not malicious intent, his 10-game suspension doesn't add up.
After a spectacular season, the Irish striker saw his chance to give Newcastle Jets the fairytale finish they were so hungry for and stuck out his foot with the ball inches away in an ultimately hopeless attempt to nab an equaliser. 
While the fact he kicked Thomas in the head as a result cannot be brushed over and definitely warrants a significant suspension, the nature of the incident not to mention the A-League's history of suspensions suggests O'Donovan's sentence is overblown.
Within minutes of the suspension being handed down the Jets swiftly responded, declaring they will be challenging the verdict, and rightly so.
In deciding on the length of the ban, Football Federation Australia's disciplinary and ethics committee suggested O'Donovan's defence that he made a play for the ball was undone by the fact he looked at Thomas.
Though replays do support this, simply making eye contact with someone doesn't make it any easier to pull out of a mid-air challenge within a split second.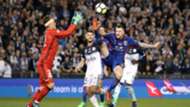 Yes, O'Donovan shouldn't have put himself in such a situation to begin with but any suggestion there was malicious intent behind it is unfair.
Though the striker does have a poor disciplinary record, his headbutt on Manny Muscat in late 2015 certainly didn't help his cause, anyone who has met the former Sunderland player knows he doesn't have a bad bone in his body.
The fact he was able to suck up his pride and disappointment after losing the grand final and find Thomas to apologise is a small indication of the man O'Donovan really is.
In the aftermath of it all, a lot of people have also forgot that not long prior to the challenge, O'Donovan himself copped an elbow to the face that immediately swelled up.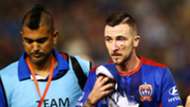 Speaking from Ireland to defend his case, the 32-year-old suggested his vision was blurred as a result and didn't actually realise he had made contact with Thomas' head until after the game.
Factual or not, receiving such a hit to the head was never going to end well for O'Donovan who really should've been taken from the field after the elbow.
Considering the concussion rules now in place for rugby league, an incident like this doesn't look good for the A-League.
The trend of suspensions handed out this past season also highlights the fact O'Donovan can feel hard done by.
A week prior to the grand final, two Melbourne Victory assistant coaches entered the field of play and struck a player only to receive four-game bans.
Add to that equation Wout Brama's sickening lunge on Corey Gameiro that somehow received just two weeks and you begin to see why Newcastle and O'Donovan could feel some sense of injustice.
Though a lengthy ban is definitely needed, I for one can't see how O'Donovan deserves two more weeks on the sidelines than what Kevin Muscat got for this atrocity.