Premier League
Rooney, Xhaka & Mahrez underwhelm in Worst Premier League Team of the Season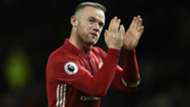 Much was made in the lead up to the 2016-17 Premier League season of Pep Guardiola at Manchester City and Jose Mourinho leading Manchester United, but both teams struggled to mount a serious title charge as Chelsea wrapped up the glory.
Arsene Wenger's position has come in for serious scrutiny as Arsenal look set to miss out on Champions League football for the first time in almost two decades.
While Antonio Conte's Blues have exceeded standards in the league - albeit without having to deal with the distraction that is European football - the other behemoths have underperformed, while Leicester dispensed with Claudio Ranieri after his champions seemingly downed tools early into the season.
Goal takes a look at the players who did not perform as well as they normally can in the Worst Team of the Season.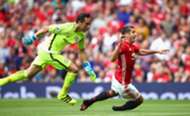 CLAUDIO BRAVO (Manchester City)
While Swansea's Lukas Fabianski conceded more goals and Sunderland's Jordan Pickford was between the sticks for the majority of bottom-club Sunderland's disastrous campaign, the consistently poor performances of Claudio Bravo left even Pep Guardiola grimacing. The Manchester City boss dropped the Chilean for Willy Caballero mid-way through the season after a number of blunders and, despite coming back into the first team, the former Barcelona shot-stopper has done little to inspire confidence at the Etihad in his first year in England.
Will Pep clear out his Argentina Blues?
JOHN O'SHEA (Sunderland)
David Moyes' management career took another nosedive this year after he failed to steer Sunderland from relegation. The former Everton and Manchester United boss inherited a team that has been struggling for years and he chose to build his defence around the experience of John O'Shea, but it proved to be a poor choice. O'Shea's playing days are nearing a conclusion, but the former Man United defender's leadership at the back has been well below the required standard, as summed up by BBC pundit Alan Shearer, who described the Irishman's performance in their last home game of the season as "pathetic".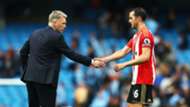 LAMINE KONE (Sunderland)
Sunderland will finish the 2016-17 season at the bottom of the league having lost the most number of games and as part of the defence tasked with keeping the opposition out, Lamine Kone must bear some responsibility for that fact. The Ivorian failed to strike a convincing partnership with O'Shea and their performances as a unit bordered on comical at times.
Could James be Man Utd's Galactico
ROBERT HUTH (Leicester City)
One of Leicester's chief strengths in their fairy-tale title triumph was their magnificent defence, featuring the twin towers of Wes Morgan and Robert Huth. However, in 2016-17, the performances of their backline have stood in complete contrast to the formidable unified front on display the season before. Huth has particularly underperformed and the German centre-back scored two own goals in a campaign he will be keen to put behind him.
JOHN STONES (Manchester City)
Pep Guardiola remains a firm believer in the ability of John Stones, but the England international has a long way to go if he is to become the foundational rock upon which Manchester City build their team. Along with the error-prone Claudio Bravo, Stones has been one of the main weaknesses in City's backline. The 22-year-old arrived at the Etihad from Everton with a hefty price-tag and much promise, but his catalogue of errors in his debut campaign have shown that he is far from the polished diamond that Guardiola desires.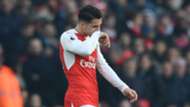 GRANIT XHAKA (Arsenal)
Switzerland international Granit Xhaka was brought to the Emirates with a view to adding steel to an Arsenal midfield that was missing a ball-playing enforcer. However, rather than live up to expectations, Xhaka's first campaign in England exposed his tendency to put his team-mates under pressure through indiscipline. The former Borussia Monchengladbach midfielder regularly conceded reckless fouls and was sent off twice as the Gunners fell further away from the coveted Champions League places.
MAROUANE FELLAINI (Manchester United)
Jose Mourinho's expensive squad are out of the top-four race after a dismal campaign and the Portuguese is taking a risk by pinning all hopes of Champions League qualification on winning the Europa League. They relied too heavily on the likes of Zlatan Ibrahimovic to spur them on to greater heights and others hid in his shadow. One such player was Marouane Fellaini, who was found wanting too frequently. The Belgium international has scored just one Premier League goal - in a routine win over Middlesbrough - and his inability to keep a cool head in a crunch Manchester derby is symptomatic of his lack of leadership skills.
GASTON RAMIREZ (Middlesbrough)
Middlesbrough faced a fight to stay in the Premier League this season and if they were to have any chance they needed their key men to perform to the best of their ability. However, as Aitor Karanka and then Steve Agnew learned, some of them weren't up for the fight. Uruguay international Gaston Ramirez was one of those players. Boro have scored the least number of goals in the league, with Gaston coming up with just two goals and three assists. His contribution to his team's cause were probably most summed up when he was sent off for two silly fouls in a crunch game against Bournemouth.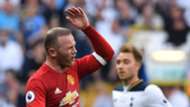 WAYNE ROONEY (Manchester United)
He broke Bobby Charlton's long-standing goal-scoring record this season, but Wayne Rooney has scored fewer Premier League goals (5)  this campaign than West Brom defender Gareth McAuley (6). Once feared by defences across Europe, Rooney's powers have severely diminished and, though he retains the captain's armband, he has been reduced to the role of stage hand at the Theatre of Dreams, with veteran striker Zlatan Ibrahimovic putting him to shame.
Man Utd to forfeit £21m if they lose Europa
VINCENT JANSSEN (Tottenham)
Netherlands international Vincent Janssen was heralded as 'the next Ruud van Nistelrooy' when Tottenham signed him for €20 million from AZ, but he showed little sign of the former Manchester United man's predatory instinct. The 22-year-old has managed just two Premier League goals and one of those was a penalty. When Spurs' talisman Harry Kane was ruled out for over a month with an ankle injury, Janssen failed to step up, much to the disappointment of Mauricio Pochettino and the White Hart Lane faithful.
RIYAD MAHREZ (Leicester City)
When Leicester miraculously swept to Premier League glory in 2015-16, Riyad Mahrez was crowned PFA Players' Player of the Year. The Algerian bagged 17 league goals last term, including crucial strikes against Chelsea, Tottenham and Manchester City, but he was found wanting in the subsequent campaign. He was one of a handful of players who bore the brunt of supporters' abuse following the dismissal of Claudio Ranieri and the fact that his six league goals this season have come against Hull, Watford, West Ham and Middlesbrough speaks volumes.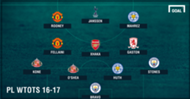 Do you agree with Goal's Team of the Season? Leave your comment below on who you would have picked...