Euro 2016
Rooney is 'dad' of England squad, says Wilshere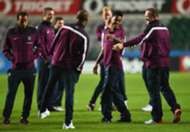 Jack Wilshere has described England captain Wayne Rooney as the "dad" of the squad.

The striker was appointed skipper by Roy Hodgson in August following the retirement of Steven Gerrard, and will be handed his 99th international cap against Estonia on Sunday.

Wilshere has hailed Rooney's ability to bring the squad together as they look to qualify for Euro 2016, insisting that his determination and "hunger" makes him a perfect role model for the younger players.

"He's a natural leader," Wilshere is quoted as saying by The Sunday People. "You can see that. Even when Steven Gerrard was captain, Rooney was a big voice in the dressing room.

"He gets everyone going, he encourages and he's not scared to tell you when you're doing something wrong.

"He's the only one now who has been playing for England for 10 years, with the likes of Gerrard. He's been through that generation.

"Now it really feels like he's the dad figure, if you like. He puts his arm around us, brings us together and gets us going.

"Ever since I came into the squad he was like that. He's just a natural leader. He loves the game. He's first out to training. You can tell his hunger has never changed. It's refreshing to see."