Ronaldinho was lazy but he was also a genius, unlike Liverpool target Shaqiri
Last Updated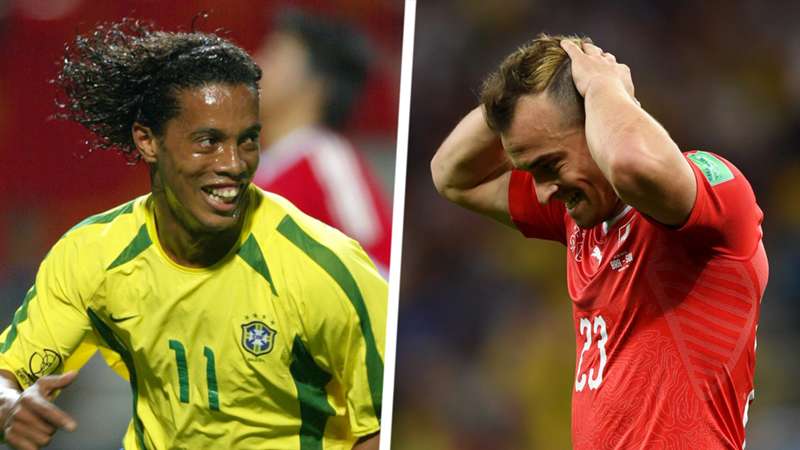 Getty/Goal
Ahead of the 2018 World Cup, sports and history channels helped fans get in the mood for the tournament with documentaries and highlights shows of some of the best games and best players from World Cup history.
These introduced younger fans to heroes like Pele and Diego Maradona and reminded the rest of us about the greatness of Ronaldo, Ronaldinho and other recent legends.
At the 2002 World Cup, Ronaldinho formed an incredible attacking trio for Brazil, playing alongside Ronaldo and Rivaldo as the Selecao won their record fifth title. Despite being selected in the World Cup Dream Team, the then-PSG forward scored just two goals in the tournament, including an incredible long-range free-kick against England which knocked them out in the quarter-finals.
Ronaldinho was often accused of being lazy by his detractors, with stories of his hedonistic lifestyle regularly cited when he failed to deliver on the pitch. PSG team-mate Jerome Leroy revealed in 2016 that the Brazilian sometimes did not even bother to turn up for training, as he knew his immense technical ability would be enough for him to make a difference on the field.
"Ronaldinho didn't train any day of the week and would just turn up on a Friday for the game on Saturday," Leroy claimed.
"Players with great talent, they're a bit crazy. Every morning he'd come in with sunglasses. He'd get changed and he'd go straight to the massage bed to sleep."
Each World Cup has players like Ronaldinho who produce unexpected moments of magic and write their names into the history books. The 2018 edition will no doubt have inspirational figures who step up when their teams need it most.
One player who failed to step up at club level in 2017-18 was Stoke City attacker Xherdan Shaqiri, who saw his side suffer relegation from the Premier League and regularly played below the required standard despite scoring eight goals for the Potters.
Following their relegation, Shaqiri even went as far as criticising his team-mates, claiming that they were of a much lower standard to those at his previous clubs Bayern Munich or Inter Milan, stating not even Ronaldinho could have saved Stoke from the drop.
"The feeling that even a Ronaldinho could do little in this team is sobering," Shaqiri told Schweizer Illustrierte.
"I had to realise that it's a bit different when you have players like [Franck] Ribery and Thiago at Bayern or [Mario] Icardi and [Mateo] Kovacic at Inter.
"Here at Stoke I cannot exert too much influence, simply because there is a lack of quality around me."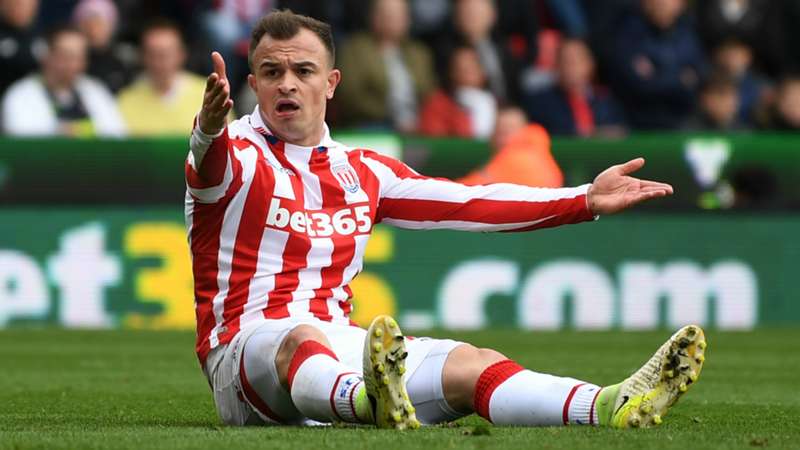 Shaqiri is eager to force his way out of Stoke this summer, with Liverpool a possible destination after their move for Nabil Fekir hit a major stumbling block. The World Cup is the ideal shop window for players looking to earn a move, but Shaqiri might not be the right character to play his way into the plans of top clubs.
Like Ronaldinho, he has been accused of being lazy, with former Manchester United defender Gary Neville singling him out during coverage of Switzerland's 1-1 draw with Brazil despite Shaqiri providing an assist.
"He could score the goal of the tournament and he could have the most amazing game," Neville told ITV.
"But he could also be there for three matches, do nothing and just amble and wobble around. To be honest with you, with him, players like that I can't have. I struggle with it."
Ronaldinho produced highlight-reel moments regularly for both club and country, winning two FIFA World Player of the Year awards, the Ballon d'Or, as well as the Champions League and World Cup, and was named the player of the tournament when Brazil won the Confederations Cup in 1999.
Shaqiri has just been relegated with Stoke.
Before that he was allowed leave Bayern Munich after playing just 52 Bundesliga games over three seasons and then spending a season at Inter, where he scored just once in 15 Serie A games with the Milan club prepared to sell him at a loss after just six months.
The 26-year-old needs to provide more consistent performances at club level and for his country.
At the 2014 World Cup, he netted a hat-trick against Honduras, but was largely irrelevant in Switzerland's knockout-round defeat to Argentina.
He put in an adequate performance against Brazil in the opening game of the 2018 World Cup, but it is in games like Switzerland's second Group E tie with Serbia where the Kosovan-born midfielder needs to prove his worth.
Switzerland head coach Vladimir Petkovic has urged Shaqiri to give more in his side's second group game, believing that his wide player can offer more than he did against Brazil.
"I expect from him and everyone else and myself, I always expect more and better," Petkovic said in the pre-match press conference.
"He's very positive. He's never satisfied with what he's achieved. There is always that 10% you can add more to your performance, and he always wants to do more and prove himself."
There is no bigger audition than the World Cup. Liverpool will be watching. Now it is time for Shaqiri to prove to the world if he even deserves to be mentioned in the same breath as Ronaldinho.