Johor Darul Ta'zim
Pires delivers new kit to Johor Darul Ta'zim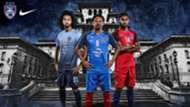 JDT unveiled their latest kits for the 2018 season in a glittering event held in Johor Bahru on Friday night. The launch saw three new Nike kits being revealed - home, away and the third kit.
Blue remains the colour of choice for the home kit while red is the colour for the away kit.
But the most talked about aspect of the unveiling was the launch video that accompanied it, because a former Arsenal player was in it.
Robert Pires made a cameo appearance in the video, coming off a private jet to hand deliver the new kits to JDT's captain, Safiq Rahim.
There was also a funny moment when Safiq questioned Pires why he was late to the delivery point. Watch the full video below.