WC Qualification Concacaf
Respectful rivals Arena and Osorio meet again in latest USA vs. Mexico showdown
---
EXCLUSIVE
---
MEXICO CITY — When Bruce Arena and Juan Carlos Osorio renew acquaintances at Estadio Azteca on Sunday, they will do so as friendly combatants in a fierce rivalry. They will shake hands and surely share a smile as they recall a premonition Osorio had a year ago.
Arena was head coach of the LA Galaxy at the time and Osorio paid the MLS side a visit in the spring of 2016 to check in on Mexican national team forward Giovani dos Santos. While there, Osorio made a prediction that may have seemed like a long shot at the time, but came true months later.
"(Osorio) told me I was going to be the U.S. (national team) coach again," Arena told Goal. "I don't know if he'll ever agree to that publicly, but he said that."
Five takeaways from the USA win 
Osorio recalled the exchange fondly and had no problem admitting his prediction, though he didn't want to take too much credit for it coming true.
"Obviously I cannot read into the future," Osorio told Goal. "Nevertheless, I said, 'I'm sure you will come back at some point to the national team' because of his ability and his knowledge of football in general, and specifically the football in the United States.
"I told him that it would be fantastic if one day I could compete against him. That would be an honor, like it is for me in most cases."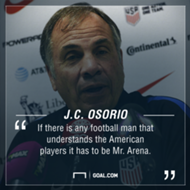 Arena and Osorio have known each other for years, with the U.S. boss recalling conversations he had with Mexico's manager more than a decade ago. Then an assistant at Manchester City, Osorio would call Arena to talk soccer during the latter's first stint as U.S. coach.
The two crossed paths in MLS, first when Osorio coached the Chicago Fire and Arena the Red Bulls, then when Osorio coached New York — having replaced Arena — while the current U.S. boss coached the LA Galaxy eight years ago.
Back then nobody would have envisioned Arena having a second go-round as U.S. coach, much less Osorio coaching Mexico, but their reunion on Sunday comes with an impressive collection of trophies that both men have won in the years since their last meeting as rival coaches.
"He's worked real hard at his craft," Arena said of Osorio. "You've got to give him a lot of credit for the things he's done to become a successful coach and manager."
Arena sees a Mexico team that has shown clear improvement since Osorio took over as El Tri coach in 2015.
"I think they've taken to him, and what he preaches," Arena said. "They're more disciplined than I've seen out of a lot of Mexican teams, although maybe that's not a fair statement. They're disciplined, they're talented. They have a lot of versatility in the way they play, and who plays. That's good.
"He's got a good base of talent. He's got a good number of players that are playing in Europe now, which is different from Mexican teams in the past. I think they have an outstanding program."
The admiration goes both ways.
"If there is any football man that understands the American players it has to be Mr. Arena," Osorio said. "Not only has he been there since day one with MLS, but also did a very good job at the national team level.
"I think he makes his team very well organized and it seems to me that he has a good relationship with them. Which probably with (Jurgen Klinsmann) was difficult because of his status."
Osorio's theory about Klinsmann's tenure as U.S. coach is an interesting one, and he made it very clear it isn't based on any inside information.
"I wasn't there so I'm not 100 percent sure, but from a distance I would think it is easier for a manager like Bruce Arena or myself to get on with the players and to be almost at the same level versus top managers with top professional careers as players like Mr. Klinsmann," Osorio said. "That's a simple assumption on my part. It could be the other way around, I'm not sure. But as far as I'm concerned that has been the case for me (with the Mexican team).
"I'm a low-key, low-profile manager that can get on with the young players, but I can also have a very good relationship with the veteran players because at the end of the day I can put my ego aside and try to speak to the players at their level. And I think that's a big plus when you are managing a team."
Five things from Mexico's win over Honduras
It's hard to argue with Osorio's logic considering how well Mexico has played with him in charge. El Tri are currently atop the CONCACAF World Cup qualifying standings, and Osorio helped end Mexico's long history of qualifying losses in the U.S. with a 2-1 victory against the Americans in November.
That result, along with the U.S. loss in Costa Rica four days later, helped force Klinsmann out and usher in Arena's second chance with the team he helped lead to the 2002 World Cup quarterfinals.
Now, more than a year after Osorio's premonition, the coaches will shake hands and match wits as they each try to make history. Osorio will try to become the first Mexico coach to win both Hex matches against the Americans while Arena tries to become the first U.S. coach to beat El Tri in a qualifier in Mexico.
"It will be a fantastic occasion for me on Sunday," Osorio said. "For us to compete against the U.S., a national team that we respect, and a manager that I also respect a lot."