A-League
REPORTS: FFA working to move rugby match to protect Allianz Stadium pitch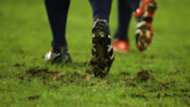 Football Federation Australia (FFA) is trying to get a Super Rugby game moved away from Allianz Stadium to help the venue's pitch be in the best possible state for the A-League grand final.
According to various reports on Tuesday, FFA is working with Allianz Stadium's operator the SCG Trust, the NSW state government and Super Rugby outfit NSW Waratahs about moving the latter's game against the Blues to North Sydney Oval on Saturday.
Allianz Stadium - which is regularly used for rugby union and rugby league - is often criticised for the state of its pitch for A-League and Socceroos matches, and it was in poor condition for Sydney FC's semi-final against Perth Glory last week.
Players regularly slipped on the soft surface, taking out big chunks of turf.
With a rugby union fixture scheduled less than 24 hours before the A-League's championship decider on Sunday, FFA CEO David Gallop told AAP the governing body will explore all avenues to make Sydney's game against Melbourne Victory the best event it can be.
"I'll be at a meeting at the stadium in the morning," Gallop said on Monday.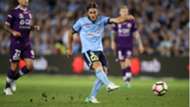 Josh Brillante, Sydney FC
"And I will certainly take the opportunity, as I have done over the last couple of months, to impress on [the SCG Trust] they do all that they can to make sure the pitch is of a standard, which is right for our game.
"They know it's important to us. We've said it a lot of times to them and we're sure they'll do their best.
"They've [the Waratahs] got broadcast and scheduling commitments and the need to have adequate breaks between games, all the things that impact it."
Last year, Socceroos coach Ange Postecoglou declared the pitch provided for Australia's friendly with Greece at Allianz Stadium was "unacceptable" and called on politicians to promise "a world-class venue for our national team".