Pulau Pinang
Reid blames team for being too wasteful with their chances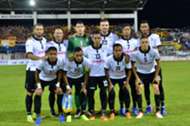 ---
BY         NIK AFIQ        Follow on Twitter
---
Assistant head coach of Penang, Darren Reid was clearly dissapointed with this team for wasting a lot of chances after their 1-0 defeat to T-Team.
Penang's goal drought continued after against The Titans and Reid said his side were too wasteful in front of the goal.
"The boys gave their heart and soul with their performance, but goals win games, and if you don't take your chances, you are never going to win the game."
"We were the better team in the first half. We created plenty of chances and had more possesion.
"It was more even in the second half. But in the end, we made one error and we were punished by it," said Reid.
When asked about the current's team performance, Reid believed they need to sit down and discuss to find the solutions quickly.
"We are still a little way off fitness wise. We also need to improve ability wise, especially with our possesion."
"[The problems] might be the mentality, might be physical but it is something that we need to sit down and have a look at," added Reid.
The Panthers were without their head coach Ashley Westwood on the sidelines as Westwood was sent off during their clash against Perak last week.
They currently sit at the bottom of the league, without any point or any goals scored after three games in MSL so far.