Real Madrid
Real Madrid complete perfect goal record in Liga season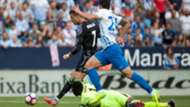 Real Madrid have capped a La Liga season in which they scored in every single match after Cristiano Ronaldo opened the scoring in the second minute of Sunday's match against Malaga.
Vidal urges Alexis to join Bayern
It is the first time in the club's illustrious history Los Blancos have achieved the feat of finding the back of the net in all 38 contests during the season.
Ronaldo beat Carlos Kameni for his 16th goal in as many matches against the Andalucians, making it the third time he has beaten the Cameroonian shot-stopper.
38 - Real Madrid have scored in all of their games in a single La Liga season for the first time ever. Infallible. pic.twitter.com/m0ikVhB2oX
— OptaJose (@OptaJose) May 21, 2017
The goal also extends Madrid's impressive streak of scoring in their last 64 matches across all competitions, the longest streak a team from one of Europe's top five leagues ever has put together.
A scoreless draw in the UEFA Champions League with Manchester City last April was the most recent time Madrid failed to find the back of the net.