A-League
'F*** off' - RBB slam FFA's response to vulgar banner
Goal Australia Chief Editor
The Red and Black Bloc (RBB) has lashed out at Football Federation Australia's (FFA) intention to penalise them and Western Sydney Wanderers for their vulgar banner at Saturday's derby.
Numerous reports on Monday indicated FFA will issue the Wanderers with a show cause notice for the "totally unacceptable and offensive" banner, which was displayed by the RBB during the second half of Western Sydney's 1-0 win over Sydney FC at ANZ Stadium.
The banner or tifo depicted a blue head - which some believe represents Sydney coach Graham Arnold - conducting oral sex.
It wasn't the only example of bad behaviour from fans at the derby, with bottles and broken seats having been thrown on the pitch from Sydney's end of ANZ Stadium - occupied by the Sky Blues' active supporter group The Cove - following the game.
The homophobic and lewd banner has been widely condemned, with a statement from FFA declaring it "abused the privileges afforded to active supporter groups to display tifos at A-League matches".
Havining initially promoting the banner via a photo on Twitter, the RBB slammed FFA's response with a statement on their Facebook page.
"We find it ironic that it takes the FFA barely 24 hours to respond to a banner deemed 'offensive', but take over 12 months to even commence an appeals process agreed upon in December 2015," the statement read.
"Clearly football in this country is in the wrong hands.
"Football belongs to the people, not a dictatorial body or the likes of so called expert commentators.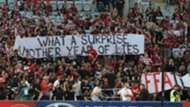 An RBB banner from December 10, 2016
"The sport doesn't belong to the FFA, nor does it belong to the likes of Robbie Slater.
"F*** off with your pandering to mainstream media."
Banned A-League fans published in The Daily Telegraph
The reference to Slater - the ex-Socceroos midfielder and Fox Sports pundit - was based on a column written by him condemning the banner.
FFA has indicated Western Sydney are working with them to identify the individuals responsible for the banner, while it has been reported Sydney want the Wanderers to apologise to Arnold.
While the RBB claims FFA has yet to commence an appeals process for spectator bans, the governing body ratified such a process in February 2016, with forms to review any ban under the FFA Spectator Code of Behaviour available on FFA's website.
FFA extend Wanderers' suspended points deduction
The RBB and FFA has a history of enmity, with the Wanderers one of two clubs - alongside Melbourne Victory - with a suspended three-point penalty hanging over their heads, which will be triggered if a flare is let off by their supporters at an A-League match.