Mexico
Raul Jimenez ready to shoulder the load for Mexico this summer
Some people are not excited about this summer's Concacaf Gold Cup. Some of those people are even Mexico national team players.
Or, at least, they would be if they showed up. World Cup veterans like Carlos Vela and Jesus "Tecatito" Corona have decided to put their focus elsewhere, while Hector Herrera and Javier "Chicharito" Hernandez have more excused absences, but nevertheless are not part of the squad. 
Raul Jimenez is not one of those people. Raul Jimenez is very much here for this.
The Wolves forward is the Mexican player coming off the most successful season abroad, scoring a baker's dozen of goals in the Premier League and adding four more in the FA Cup. Yet while other players have been looking for excuses to stay at home this summer, the 28-year-old cannot wait for the ball to get rolling at the Rose Bowl on Saturday.
"It's going to be very special for me," Jimenez said after the 3-2 win over Ecuador on Sunday. "It's going to be a very good opportunity to show Mexico, to show the world. who I am. I'm proud of being part of the Mexico attack, and I want to show who I am."
Plenty of Mexico fans are already familiar with Jimenez, but this will be the first tournament at which he can really shine. Long stuck in the shadow of Chicharito, Mexico's all-time leading scorer, there is no question Jimenez is the leader this time around. He was the only player to start both Mexico's pre-tournament friendly matches and is clearly a player coach Tata Martino will depend on this summer.
While Martino has been able to adapt to the rash of injuries (and withdrawals) that have dogged his team's preparations for the Concacaf championship, losing Jimenez would create a crisis up front for which Martino would have no easy answer.
"Raul is one of the most important forwards in the Premier League and we have the fortune of having him in the national team," Martino said at a news conference last week. "What he's done in the last several years is to transform into one of the most important players and most quality attackers the Mexican national team has."
🗣 Asked Raul Jimenez about shouldering the load for Mexico's attack this summer.

"It's going to be a good opportunity to show Mexico, to show the world who I am." pic.twitter.com/Rtt7NXpVPL

— Jon Arnold (@ArnoldcommaJon) June 10, 2019
The drop-off from Jimenez is significant. Chivas forward Alexis Vega, who scored four goals during the Clausura, is the only other center forward on the roster. The fact that Martino risked Jimenez for a second friendly match in a row rather than give the 21-year-old a starting run-out against Ecuador shows the manager does not have much confidence Vega can get the job done.
Jimenez did not score in either game but is building chemistry with attackers he does not yet know well. Plus, it is hard to get too upset at a forward in games during which his team scores three goals like it did in both contests.
"I'm happy both with my individual showing as well as the group showing. I think we played two important games against CONMEBOL national teams, which people always say are tougher games," he said. "I think we did so by playing our game, our way of wanting to do things. That helps a lot, and two wins ahead of the Gold Cup always is going to give you more confidence to face and hopefully win the tournament."
Mexico is not going to win the tournament without a confident Jimenez. Goals will come from other places. Jonathan dos Santos' individual effort Sunday, plus Rodolfo Pizarro, Roberto Alvarado and Andres Guardado putting the ball in the back of the net against Venezuela show that is pretty much guaranteed.
Yet as the tournament wears on and the back lines improve, Jimenez will be needed. Chicharito only has played at one Gold Cup and managed to find the back of the net seven times in eight games. That sort of return would be welcomed for Mexico, but it is not needed. All Martino's squad needs is a player who can lead the line, combine with those around him and provide an extra element of danger on set pieces. After that, the goals will come.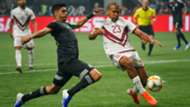 Jimenez, however, is hardly taking that fact for granted.
"You can't think things are going to happen just because we're Mexico. You have to play every game like it's the last, like it was a final," he said. "We know the teams maybe will play games in which they're looking for the counter-attack, scoring on a set piece, everybody sitting back. We know it's possible and we have to be careful when that happens."
Against those teams, teams like group opponents Martinique that had a good defensive showing in Concacaf Nations League qualification but struggled to score, it will be Jimenez's time to shine. He is ready to shoulder the burden for his country.