Roma
Ranieri open to Roma return amid Di Francesco sack reports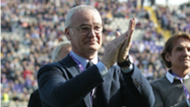 Claudio Ranieri has remained coy on a potential return to Serie A giants Roma, after reports suggested that he could be in line to take over from current boss Eusebio Di Francesco.
Roma have managed just one victory from their opening five league matches of the season, leading to speculation that Di Francesco could be replaced, despite leading the Giallorossi to a Champions League semi-final last season.
Ranieri, who famously won the Premier League title with Leicester City in 2016, has been out of work since he left Ligue 1 side Nantes in May and has worked with Roma in the past both as a player and as a coach.
The Rome born coach has offered his support to Di Francesco but also admitted that he still regrets not being able to deliver the Serie A title during his spell in charge between 2009 and 2011.
When asked if he'd be interested in a return to his former side, Ranieri told Radio Anch'Io Sport: "I am a fan, Roma is in my heart, but I hope that Di Francesco can move forward.
"That Scudetto we lost in the last half-hour of the final day still burns. I think about it often, although I partly redeemed myself at Leicester."
Roma's latest defeat came against Bologna on Sunday with the club's American owner James Pallotta said to be 'disgusted' by their start to the season.
Ranieri, 66, says he believes Roma's poor start to the season has come as a result of selling a number of their key players from last season.
The likes of Alisson, Radja Nainggolan and Kevin Strootman all moved on in the summer after an impressive league campaign that saw Di Francesco's side finish third.
"Di Francesco is one of the best young coaches we have in Italy, for reasons of financial fair play the team has been changed, three players who were the backbone of Rome have been sold," Ranieri added.
"When a coach signs a contract, he'll know his team's philosophy. Di Francesco knew what he was signing up for.
"Roma have been selling their best players for years, although it's clear no-one expected the team to perform like they have.
"The players seem afraid of touching the ball, as if it's hot. The potential is there, but we must find the spark."