Premier League
Premier League referee Mark Clattenburg delays Saudi Arabia move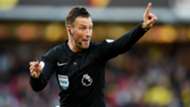 Premier League referee Mark Clattenburg will be the man in the middle for Saturday's clash between West Brom and Bournemouth, delaying his move to the Saudi Arabian Football Federation.
'Clattenburg apologised for Alexis goal'
Professional Game Match Officials Limited (PGMOL) announced last week that the 41-year-old would be leaving England in favour of the Arab nation.
It has, however, now been confirmed that Clattenburg will definitely take charge of Saturday's Premier League game, while reports have suggested he could stay and officiate as many as four more matches.
Widely regarded as one of the best officials in the game, Clattenburg presided over the finals of last season's Champions League, FA Cup and the Euro 2016 clash between France and Portugal.
The Englishman, who has been a top-flight referee for 12 years, said of his impending move to the Middle East: "This is an important move forward.
"We have professional referees in the country that I am leaving, which has been a big positive.
Arsenal stars banned from chewing gum
"One thing I'd like to do is work with the refereeing team and the president to make this happen so that it will be successful for many, many years to come."
Reports claim the official is set to earn £500,000 per year after tax when his transfer is completed.