A-League
Popovic: Wanderers can win A-League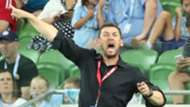 Coach Tony Popovic remains convinced Western Sydney Wanderers can win the A-League grand final, while he has also defended the club's recruitment strategy.
In an expansive interview with Fox Sports News on Monday night, Popovic - a former Asian Football Confederation coach of the year - answered a myriad of questions about the Wanderers' faltering fortunes this season. 
Popovic denied he has taken Western Sydney, who sit eighth in the A-League table with 10 games remaining, as far as he can.
While the Wanderers are just two points behind sixth-placed Newcastle Jets, their upcoming AFC Champions League (ACL) campaign could make it difficult for Popovic's men to qualify for the finals.
Not that Western Sydney's coach has given up. 
"No. Certainly not," Popovic said.
"For me [this season] is far from gone… we have ten games to go and I believe we can still win the grand final. 
"I believe everything is still possible for us this season." 
Wanderers confirm Griffiths capture
Popovic suggested the expectations of Western Sydney fans had grown over the last few years as the club became more successful in Asia and domestically.
In their four seasons of existence, the Wanderers have reached three A-League grand finals - losing all of them - and won the 2014 ACL.
"The fans in the first couple of years probably had hope," Popovic said. 
"But the football department from year one, we had expectations of winning trophies.
"Now the fans have joined us with that expectation.
"At the moment they're frustrated and we're as frustrated as they are." 
One big area of concern for many Red-and-Black fans has been the quality of Popovic's signings and the almost annual overhaul of Western Sydney's squad. 
The turnover at the Wanderers in recent seasons has been huge with 63 players coming and going since they were crowned Asian champions.
"We made a decision after we won the Champions League to change 18 players," Western Sydney's boss said.
"That was a decision made based on the philosophy of the club in terms of how we want to play and in terms of longevity we believe we can have success over a period of time.  
"That was a conscious decision and we certainly don't regret that.
"And the fans certainly were happy with those 18 changes [after the team made the grand final last season]. 
"This year there have been changes but the changes are different this time.
"A lot of the changes this year – and I've said this publicly – is due to not being able to afford a player.
"A couple of foreign players that we tried to keep. Salary cap constraints don't allow you to go as high as you'd like to keep those players.
"And then you have legends of the club [Mark Bridge and Nikolai Topor-Stanley] that as a reward you should help them go.
"So a little bit different this year in terms of the changes but ultimately we are judged on results."
Popovic, who has reportedly tried to sign Robbie Keane, Didier Drogba and Dimitar Berbatov in January, revealed his frustration with Football Federation Australia's (FFA) interpretation of the guest marquee rule.
The guest marquee rule, which has been introduced in 2016-17, allows clubs to play players outside the A-League salary cap but only if they meet the marketing expectations of FFA.
Only Melbourne City have filled the slot this season by recruiting Tim Cahill, with Melbourne Victory and Brisbane Roar having also had potential signings turned down.
"I'd love a bit more clarity from FFA on what is a guest marquee and what passes as one," Popovic said. 
"So we've tried to do that as well and unfortunately that wasn't passed by FFA.
 "Certainly a big-name player we could afford… we'd welcome."
The Wanderers confirmed the signing of veteran Australian striker Ryan Griffiths on Tuesday, while Popovic revealed the club had attempted to bring Socceroos centre-back Matthew Spiranovic back to Western Sydney but had been unable to get a deal done.