Cristiano Ronaldo
Were Ronaldo's 'small mentality' remarks foolish or fair?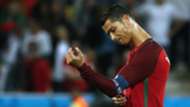 Ever the sensitive soul, Cristiano Ronaldo was left bitter and disappointed after Portugal were held to a 1-1 draw with Iceland in their opening game of Euro 2016.
The Selecao talisman hit four shots in his side's draw, but only one was on target as he failed to make the difference against the small country.
The Real Madrid attacker was heavily criticised after the game for insisting Iceland's defensive focus shows they have a "small mentality", adding that he does not expect them to do anything in the tournament.
But with the European minnows in their first major international tournament and up against their group favourites, could Ronaldo have expected anything but a defensive adversary?
Was the 31-year-old's comment fair or was it just petulant and foolish? Vote in our poll below...